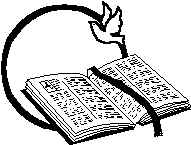 God's Word
©right Wulf Berg 2010

Pay Attention

The book of Hebrews was written for the Jewish Christians. These same messages apply to us and we should take note of them. "We (you and I) must pay more careful attention, therefore, to what we have heard, so that we do not drift away." (Hebrews 2:1)

Let us turn to Chapter 11. It is lengthy and recalls how faith in God directed our forefathers' life. I ask you to read this passage to strengthen your faith. "God also testified (and does so today) to it by signs, wonders and various miracles, and gifts of the Holy Spirit distributed according to His will." (Hebrews 2:4)

I can attest to His miracles. God has healed me. He has given me this wonderful gift that allows me to communicate with you. Believe me God is good. He bestows great gifts upon us.

"Just as cockroaches fly whenever the light is shining on them, so too evil flees or fights to put out the light of truth and love from God." (Chaplain James D. Rozman, USAF)

Let us "... encourage one another daily, as long as it is called Today, so that none of you may be hardened by sin's deceitfulness." ((Hebrews 3:13)

Have a blessed day serving the Lord each minute that He gives you. I am thinking of you and pray that God may bestow His blessings upon you.

Love One Another

We have heard it so many times. Our Lord Jesus Christ gave us this simple command: "Love One Another". Since this command is of such great importance, the Apostle Paul placed special emphasis on Love in his letter to the church in Rome. Let us see what he had to say in Romans 12:9-20.

"Love must be sincere. Hate what is evil; cling to what is good." Mother told us these things from the first day that I can remember.

"Be devoted to one another in brotherly love. Honor one another above yourselves."

"Be joyful in hope, patient in affliction, faithful in prayer."

"Share with God's people who are in need. Practice hospitality."

"Live in harmony with one another. Do not be proud, but willing to associate with people of low position or willing to do menial work."

These are just a few examples of how we can practice brotherly love. Remember, if it is born in love, then doing it is natural and is no longer a chore. Satan may call our deeds stupid. For this reason, we must remind ourselves that if we love our brothers and sisters, we need to follow the high road.

Don't Worry, Be Happy!

This topic may sound like a commercial. We all have worried about a loved one from time to time or had one of those days when nothing seemed to go right and we are looking for someone or something to blame. We feel so helpless in these situations. A voice in us calls for strong actions immediately. Does this sound familiar to you? The best action is to seek advice from God's Word. The Apostle Paul, even through he was in prison, writes his letter to the Philippians full of joy.

"Rejoice in the Lord always. I will say it again: Rejoice! Let your gentleness be evident to all. The Lord is near. Do not be anxious about anything, but in everything, by prayer and petition, with thanksgiving, present your requests to God. And the Peace of God, which transcends all understanding, will guard your hearts and your minds in Christ Jesus. (Philippians 4:4-8)

Dear GOD,
I thank You for the offer to take our burdens from us
and guard us from Satan's faulty remedies.

As any father would do, God takes our problems in His hands for resolution. How wonderful God is. Please help those we love in their daily struggle. Let them see that God can change all things to the better.

Let us make a list of all the good things:

There is Love.
There is Family.
There is Compassion.
There is Health.
There is Home.
There is Food.

Dear GOD,
I thank You for all these wonderful ingredients.
In the name of Your scripture,
I ask You to resolve personality conflicts
and bring us peace.
Let our actions be an example and bring strength
that will lead to spiritual awaking.
Thank You Father God for being always available
when we need help.
Amen!

Joy of the Redeemed

Thanksgiving and Prayer.

"I always thank God for all of you, mentioning you in my prayers. I continually remember before God and Father your work produced by faith, your labor prompted by love, and your endurance inspired by hope in our Lord Jesus Christ. Amen."


(1 Thessalonians 1:2-3)

All around us we can see how nature brings new life to the trees and flowers. Their beauty inspires and strengthens us. We forget the dullness of winter. Evangelist Billy Graham calls it "God's power and creativity restoring new life to the earth each Spring. This same power provides us with new life when we trust in His Son Jesus Christ."

Let me share with you Isaiah's joy of the Redeemed. You can cast away all bitterness, hurt and sadness. Traumatic newscasts will be replaced by the sounds of joyful trumpets. This is promised to us.

Joy of the Redeemed

"The desert and the parched land will be glad; the wilderness will rejoice and blossom. Like the crocus, it will burst into bloom; it will rejoice greatly and shout for joy. The glory of Lebanon will be given to it, the splendor of Carmel and Sharon; they will see the Glory of the LORD, the Splendor of our God.

Strengthen the feeble hands, steady the knees that give way; say to those with fearful hearts,

bBe strong, do not fear; Your God will come, He will come with vengeance; with divine retribution He will come to save you.

Then will the eyes of the blind be opened and the ears of the deaf unstopped. Then will the lame leap like a deer, and the mute tongue shout for joy. Water will gush forth in the wilderness and streams in the desert. The burning sand will become a pool, the thirsty ground bubbling springs. In the haunts where jackals once lay, grass and reeds and papyrus will grow. And a highway will be there; it will be called the Way of Holiness. The unclean will not journey on it; it will be for those who walk in that Way; wicked fools will not go about on it. No lion will be there, nor will any ferocious beast get up on it; they will not be found there. But only the redeemed will walk there, and the ransomed of the LORD will return. They will enter Zion with singing; everlasting joy will crown their heads. Gladness and joy will overtake them, and sorrow and sighing will flee away."
(Isaiah 35)

Hallelujah! Amen!

God, we thank You for the day when all sadness turns to joy. By Your grace we will be given everlasting residency in Your kingdom. Which joyful day that will be. We thank You for the redemption we have received through Your Son Jesus Christ. It is said in the scripture:

"In Him we have redemption through His blood, the forgiveness of sins, in accordance with the riches of God's Grace!" Amen!
(Ephesians 1:7)

God gives Encouragement.

Each day I have doubts about my strength to face up to the daily struggle with Satan. Is my faith strong enough, do I have self-control, can I be perseverant or be steadfast, do I set a good example that will inspire others to follow, and most of all do I understand what it means to love my brothers and sisters? I struggle with these questions every day and have to reassure myself that I can ask my Lord and Savior, please help me, cast away my doubts, restore my faith and show me the way.

"The Lord is my light and my salvation
- whom shall I fear?"

"The Lord is the stronghold of my life
- of whom shall I be afraid"


(Psalm 27:1)

I find comfort and reassurance in the words of the Apostle Peter. Being chosen by the goodness and foreknowledge of God the Father and having the knowledge of salvation that my Lord Jesus Christ died for my sins on the cross, allows me to praise God and Father of my Lord Jesus Christ. "In His great mercy He has given us new birth into a living hope through the resurrection of Jesus Christ from the dead, and into an inheritance that can never perish, spoil or fade." (1 Peter 1:3-4)

As I continued reading through Chapter 2, the Holy Spirit reassured me that Peter's words apply to me and I should rephrase them accordingly:

"You are a chosen person, a royal priest, a person belonging to God that you may declare the praises of Him who called you out of darkness into His wonderful light. Once I was not, but now I am a person of God; once I had not received mercy, but now I have received mercy." (1 Peter 2:9-10)

These are very encouraging words.

Praise be to God and Father of our Lord Jesus Christ!

Let us be Holy: "Prepare our minds for action; be self-controlled; set our hope fully on the grace to be given to us when Jesus Christ is revealed" (1 Peter 1:13)

"Do not be surprised at the painful trial you are suffering, as though something strange were happening to you. But rejoice that you participate in the sufferings of Christ, so that you may be overjoyed when His glory is revealed." (1 Peter 4:12-13)

"Cast all your anxiety on Him
because He cares for you"


(1 Peter 5:7)

Peace to all of you who are in Christ.


Let us give thanks to the Lord,
for He is good.
His love endures forever.
Amen!

Jesus is our Sin Offering.

On the First Sunday after Easter, Air Force Chaplain Marshall delivered an inspiring sermon entitled "Back to Basics". He based his sermon on 1 Corinthians 15:1-28 and called it the A-B-C of Christian living.

A - Addicted to Sin is every person.

B - Believe in Jesus Christ as your Savior.

C - Confess your sinfulness to Jesus Christ and claim your salvation.

As I was listening to Chaplain Marshall's sermon it became apparent to me how blessed today's Christians really are. Out of His goodness God sent His beloved Son into this world as a sin offering for all people. We all are sinners and continue to sin. There is not one righteous person among us. Jesus Christ became our sin offering. How blessed we are. Hallelujah!

"God made Him who had no sin to be sin offering for us, so that in Him we might become the righteousness of God." (2 Corinthians 5:21)

If you believe in God Almighty, Creator of Heaven and Earth, you need to ask for forgiveness of your sins each and every day. The books of Leviticus and Numbers from the Old Testament prescribe in detail sin offerings of various forms by burning animals and performing other sacrifices. The problem is that God may accept or reject these sin offerings. Since our sins have become of such magnitude, no sin offering would be acceptable to God. What could we possibly assemble to please God?

What pity awaits men and women unless they believe in God's goodness and in the resurrection of His Son Jesus Christ who came into this world for our sins?

Remember what Jesus told Nicodemus when they met at night. "Whoever believes in Him is not condemned, but whoever does not believe stands condemned already because he has not believed in the name of God's one and only Son." (John 3:18)

Confess your sinfulness to your Savior Jesus Christ and He will make you righteous before God because He is your sin offering.

"If we confess our sins, He is faithful and just and will forgive us our sins and purify us from all unrighteousness." (1 John 1:9)

How wonderful, we all can be saved by claiming our salvation through Jesus Christ. NO additional burning sin offerings are required. All we need is Jesus Christ as our mediator.
Confess to Jesus Christ that you are a sinner.
Ask Him to be your Lord and Master, your Savior.
Ask that you become righteous by virtue of His crucifixion and resurrection.
And God will accept you!
"Have mercy on me, O God,
according to Your unfailing love;
according to Your great compassion
blot out my transgressions.
Wash away all my iniquity
and cleanse me from my sins."


(Psalm 51:1-2)

"I trust in God's unfailing love for ever and ever.
I will praise You forever for what You have done;
In Your name I will hope, for Your name is good.
I will praise You in the presence of Your Saints."
Amen!


(Psalm 52:8-9)


God Bless You my friends Wulf


Scriptures were taken from the Holy Bible, New International Version® Copyright©
---
For additional writings please return to
---
This page is linked to US 50 Coast to Coast Travel Site.