Donna's Journey
All information is copy right protected.
Copyright 2000 Donna & W. Berg Press
September 2000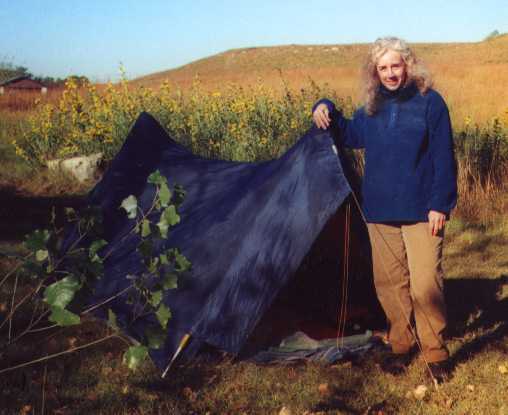 I have been traveling for two weeks, and right now I am in Cincinnati, at my mother's home, which is "home base" for me. I am resting and repackaging before continuing my journey.
After visiting some friends in Hagerstown and Kensington, MD, I finally reached Ocean City via Rt. 1. I felt so excited as I stood in that little park at the start of Route 50! Here I was, at the start of realizing my life-long dream, to take this journey. I went to the seashore, and stood with the vast expanse of the Atlantic Ocean at my back, the waves lapping at my feet, and the whole vast American continent ahead of me. I could see that beautiful sign that says, Sacramento, Ca 3073 mi. I felt very small and very large at the same time. It was a joyous moment!
From then on my constant companion is the highway sign that says "West 50" all along the route. The best part of the trip is the people I meet. I stopped in Middleburg, VA for breakfast one day, at the Coach House. I asked the waitress if there was a bakery in town where I could buy a loaf of bread. She said, yes, just a half block off 50. When she said "50" I immediately felt that she was my neighbor, because in Cincinnati I live a half block from 50, and so we live on the same street, don't we? That makes us neighbors! I feel that Rt. 50 is the artery that connects me to everyone else in this country. It is an artery, a lifeline, much more than any of the superhighway interstates. No one lives on the interstates; they just pass through, nameless and faceless. But people live and work right along US Rt. 50, people we can meet and talk to and learn from.
In West Virginia I camped at Blackwater Falls State Park, where I met a traveling minister who is a Vietnam vet/former Hell's Angel with many interesting stories to tell. He devotes his life to helping people. He carves what he calls "loving' spoonfuls" -- large wooden spoons -- out of pieces of firewood. Each one is different, but each one has a cross and a heart somewhere on it. He will carve one for anyone who asks, which I did. It is his way of opening the door to tell people of God's love for us. He asks us to us the spoon to scoop a "lovin spoonful" of love and care from our hearts each day to give to others.
This is just a small sample of the people I have met. Never a dull moment! I'll be back on the road soon, with more stories.
Thank you again for all the prayers!
---
I have been traveling for 25 days and have reached Grand Junction, Colorado. I don't know how to begin to describe the experiences I have had. First let me say that Route 50 has to be the most interesting highway in the country. It has taken me through the heart of this vast country and shown me incredible landscapes -- and I still have Utah, Nevada and California to go!
After leaving Cincinnati I camped at Lincoln State Park in Indiana, near Boonville. Southern Indiana is a comfortable and homey place, where the landscape rolls like a quilt tossed on a feather bed. Boonville is the town where my father was born and raised, so the area has special significance for me. Abraham Lincoln had his boyhood home in the area, too. I have found that any place that Lincoln lived has been left with the imprint of the spirit of this great man. The park is very clean and lots of birds frequent the campground. I met a woman who was overcome with curiosity about me and had to ask, "Are you traveling all by yourself?" We had several good conversations and ended up with her and her husband inviting me to visit them if I ever came through Panama City, FL, their hometown.
In Illinois I found myself camping in the rain at Lake Carlyle State Park, but the next day was sunny and I headed for Cahokia Mounds. This archaeological site is the remains of what was once a thriving prehistoric city of over 20,000 people. From the top of the mound you can see the St. Louis skyline and Gateway Arch. I ask myself, what happened to this great culture? Their remains and artifacts indicate an advanced and complicated people. They disappeared from the area 1,000 years ago.
In St. Louis I stayed with a friend, and I went downtown and rode to the top of the Gateway Arch. From the observation windows I could see the Cahokia Mounds across the Mississippi to the east. Here I was, gazing at one cultural monument from the top of another cultural monument, a millennium apart. I felt a link to that lost culture and wondered, will our culture suffer the same fate?
After camping at Meramec State Park in beautiful weather, the rains began. I was heading west toward another state park and passed through Sedalia, MO. I liked the looks of that town, so I decided to turn around and spend the night there. I saw a billboard for the Hotel Bothwell, a historic hotel in town and decided to check it out. It was a good choice! The hotel was built in 1927 and recently restored, and had a nostalgic feel to it. Harry Truman spent time there. Just north of town is the Bothwell Lodge. John Homer Bothwell was a philanthropist and benefactor of the town of Sedalia, building a hospital, school, and the hotel. His lodge is definitely worth visiting.
Then into Kansas! I was not prepared for how strongly the prairies would affect me. I camped at a small fishing lake in Chase County, just outside Emporia, KS. This area is called the Flint Hills region of Kansas, and has the remaining 4% of unplowed original prairie land in the United States. The subtle beauty of the landscape literally took my breath away. The interplay of light and shadow, color and wind, sky and grass, is unique in all the country. At the campground I met four men from Chicago, two architects, a lawyer, and a carpenter, who were in the area to find and buy prairie lands for preservation in partnership with the Nature Conservancy. They shared the only picnic table in the little campground with me. We gazed at the starry sky, identifying constellations and pondering the mysteries of the universe. The next day we visited the Tallgrass Prairie National Preserve, just a few miles north of Rt. 50. I left my heart here in the Kansas prairies and promise to return someday.
I loved Kansas so much; I didn't want to leave it. I spend the next night camping at Kalipolis Lake, about 2 hours north of 50. There aren't many camping spots in Kansas. In fact, the next night I had to stay in a motel in Lamar, Colorado because there were no campgrounds nearby.
When I reached Pueblo, I took a little time in town to visit the Public Library, where I used their computers for Internet access. Then I found a Jiffy Lube and gave my car an oil change. My little Volkswagen has been doing a wonderful job getting me across the country, and I rewarded it with a lube job. Then I took a large detour south to visit Great Sand Dunes National Monument. I was here 25 years ago, and vowed to return. This place is unforgettable. The largest sand dunes in North America lie at the foot of the 14,000-ft. Sangre de Cristo Mountains. The contrast of the solid, Rocky Mountains and the shifting dunes gives one pause for thought. The dunes look like mountains, but they are changing and shifting. The mountains look solid and immovable. But the dunes are themselves made of sand eroded from the mountains to the south. So which are more permanent, which are stronger?
At this campground I camped next to a woman who was, like me, traveling and camping by herself. So we enjoyed sharing our stories and ended up exchanging addresses. Another new friend! I have made so many on this trip. I find that the farther west I go, the less people ask me, "Are you traveling alone?" It doesn't seem so odd to westerners; the people in the West are more individualistic and rugged and don't look askance at a woman traveling alone. I must say that I have never felt afraid or threatened; I have met wonderful people (campers tend to be a congenial lot). I also thank all for their prayers that go a long way toward protecting me and everyone I come into contact with. Thank you!
As Route 50 entered the Rocky Mountains, I found myself feeling intimidated by the imposing presence of the mountains. I think I am a child of the wide-open spaces. The mountains are so big, so strong. I wonder what the earliest explorers felt when confronted with the Front Range of the Rockies. Although the scenery is undeniably magnificent, I yearned for the flatlands. I camped just a few miles from Monarch Pass (11,000 ft.), at the Continental Divide. What scenery! The Rockies were kind to me that night, as I camped in their bosom in a small Forest Service campground, all alone. I woke to sunny skies and cool but not frigid temperatures. I breathed a sigh of relief to be driving westward, down their flanks, into what would prove to be the most magnificent part of the country yet, Western Colorado. The Curacenti Recreation Area, Black Canyon of the Gunnison National Park, the mesas of Montrose and Grand Junction, offer an astounding variety of natural landscapes. With every curve I found myself exclaiming, "Oh! How beautiful!"
This journey has filled me with awe for our magnificent country. I seem to only be able to speak in superlatives about the land I have crossed. And so much yet to see and discover! I take each day as it comes, one day at a time, ready and open for whatever new adventures and new friends await me. No matter where I find myself along this route, I always seem to be in the right place at the right time. I have never felt more alive.
More to come, later! Sincerely, Donna
---
In Grand Junction, Colorado, I stayed with someone I had never met, a friend of a friend, who graciously shared his home with "a pilgrim and a stranger." I could "tarry but a night" and was able to do two loads of laundry and catch up with some correspondence. My host treated me to a delicious home-cooked meal followed by a walk around the neighborhood. The horizon is dominated by the Book Cliffs to the north. The next day was Sunday, and after visiting a church in town and stocking up on groceries I again hit the road and headed into Utah.

Just after Grand Junction, Route 50 merges with Interstate 70 for almost 200 miles, until Salina, UT. I'm surmising that 50 was the original road through here, and that I-70 usurped its space. That is understandable, considering the difficulty of building roads through this canyon landscape. But I do not like interstate highways -- their wide shoulders and medians cut one off from the land one is traveling through. I like the landscape right up next to me, close enough to smell and hear and see. Maybe next time I should walk across America on Rt. 50 -- now there's an adventure! (More on this subject later.)

I took a short detour off 50/70 to reach Arches National Park, where I thought I'd camp this night. Here I saw for the first time the notice "Campground Full". The visitor center was full of people. I had been to both Arches and Canyonlands National Parks years ago, so I used the
opportunity to visit Dead Horse Point State Park, which I had never seen. There was plenty of space in this campground. It was good to get away from the crowds at the National Parks. (Being one who enjoys solitude, I suppose my definition of "crowd" may differ from others'.) I liked this small state park atop a mesa. The air smelled good, like juniper and sage. After setting up my tent, I went for a walk on the mesa and sat on a rocky overlook, to get the feel of the place. A gentle wind rose from the distance -- I could hear it approaching through the junipers and pines scattered across the mesa -- and washed over me. Literally, washed -- I felt bathed in its pure clean gentleness. It gave peace to my soul and I rose to return to my campsite, hungry. Dinner was a salad of spring greens, a sliced sweet red pepper dipped in sour cream, and bread and butter. Coffee and cookies for dessert. I hear the sounds of my neighbors: a family nearby, little girls giggling and running, their sandals slapping on the pavement. The moon is a thin crescent and Venus is settling low in the west, following the sun (like me). A perfect day.

One of the best parts of this journey is the sky at night. Living in a big city like Cincinnati, I could hardly remember the last time I saw a sky full of stars and the Milky Way. Here in the western desert, starry skies are a regular treat. And I soak up all I can get. I stay outside, my neck craned, eyes skyward, not able to take my gaze off the dazzling sky. I see shooting stars every night. The teapot of Sagittarius, Scorpio with its red Antares heart, Arcturus and Cygnus the Swan and the Dippers, and in the wee morning hours (when I get up to visit the outhouse), Orion and Gemini and Taurus, with Jupiter bright among them, almost outshining Sirius. I stare at the sky until I can no longer keep my weary eyes open, then crawl into my cozy tent and sleep like a baby. It is my habit to rise before dawn and walk to a good spot and watch the sun rise. Here at Dead Horse Point I walked to the visitor center, deserted of course in the dark. I stood near a box canyon that was almost visible in the precrepuscular light. No sounds. No birds waking yet. I said my dawn prayers. As it got lighter I could see the Colorado River snaking down in the canyon. Water! How precious it is here. When I returned to the campground others were stirring and breakfast aromas filled the air.

I spent the morning exploring the canyonlands in my car. I found petroglyphs on a cliff: pictures of animals, stars, spirals and human figures. How fascinating! I decided then that on the rest of my trip I would make a special effort to seek out these ancient Native American artworks.
It is now 4:30 PM and I am stopped for the night at Yuba State Park, Utah. This is a beautiful park with a big lake ringed by mountains. It is very windy, dry and sunny. I am tired! I drove all day through the desolation of eastern Utah. Rt. 50 joined Interstate 70 all the way to Salina, and I was very glad to get off the interstate and onto a two-lane road again. I do not know how the early pioneers ever got across this territory. The scenery is magnificent: mesas, canyons, monumental cliffs, colorful rock layers – vast, as far as the eye can see. This country is so big – it is swallowing me up!
This is a nice park, with a bathhouse and hot showers. But no people! I haven't seen anyone here. There is an RV at one of the sites, and I see a boat out on the lake. There are cottonwood trees all around my campsite, and when the wind blows (which is all the time!) their leaves clap and flutter. I am reminded of a favorite Bible verse, "The mountains and the hills break forth into singing, and all the trees of the field clap their hands." The psalmist could just as well have been here in Utah for his inspiration. I love the way cottonwoods "clap their hands."
This is the fourth campground that I have had all to myself. And I have been in crowded campgrounds where no one has approached me or spoken to me. And also, I have camped in many places where I have met people and made new friends.
The western sky is tinged with every shade of sunset imaginable. After dusk the strong incessant wind finally settled down, and it was another starry night. During the night I could hear sounds in the campground, like footsteps on the gravel. It was a little unsettling, especially since I was all-alone. In the morning I discovered what the sound was: it was fish jumping in the lake! The splash made by their breaching sounded just like the crunch of feet on gravel. I was spooked for nothing.
There have been times on this trip that I get really lonely and wonder why I ever wanted to travel like this, all by myself. This is one of those times. But I know that, in years hence, I will always treasure the memories of this trip, lonely times included. I will profit from what it teaches me. There will be times in the future when I will want to travel alone again. These days, the days of this journey, are precious. I treasure them!
After a leisurely breakfast I continued on my way. After Scipio, Rt. 50 begins to take on a look that is deserving of the name, "the loneliest road in America." I drove past Sevier Lake. It was a vast stretch of white, and glistening; but the glisten may have been a mirage, and not water. The only birds I see are ravens. I pass a sign that says, "U-Dig Fossils: Trilobite Quarry, 20 miles." I wouldn't drive 20 miles on a gravel road for a trilobite! (I guess I am spoiled: in Cincinnati trilobites are quite common.)
I must admit that I did not find Utah to be a friendly state. I am now at the Nevada line, and heading for our country's newest national park, Great Basin National Park. I am very interested to see what Nevada is like. My idea of Nevada, having never been here, is that it is an endless stretch of dry flat desert. Boy, was I ever wrong about Nevada.
---
I have crossed the state line into Nevada, and headed to Great Basin National Park. This is a very new park, only a few years old. I learned that there are ancient bristlecone pine trees here. I have always wanted to see these trees, and I am glad to learn that I don't have to make a big detour in California to see them. They grow on Wheeler Peak. The ranger in the Visitor Center is very friendly. There are three campgrounds here, and I opted for the one at almost 10,000 feet up on Wheeler Peak. I began the 12-mile drive up a narrow steep road, perched on the edge of the mountain. Vehicles over 27 feet cannot make this drive. The views of the valley below are beautiful. At 8,000 feet, suddenly the oil pressure warning light on my car came on, and started beeping. Uh-oh! I stopped and after a few minutes checked the oil. The oil level was okay. So I let it cool down a while, then turned the car around and went back to the visitor center and asked the ranger if there was an auto mechanic in Baker, the nearest town. She said yes, and even picked up the phone and called him for me. His name was Dee, and yes, he worked on VWs, and said, "Come on down!" I cautiously drove the five miles downhill to Baker. He checked my car and told me that the sensor cable was knocked loose, and the oil was circulating fine, and showed me how to check it. As I stood by the car watching Dee, I noticed an old man on a 4-wheel ATV coming towards the garage. He was headed straight for me and my car. I waved. He idled up, still coming straight for me, unsmiling. Closer, but still not turning or stopping. Finally he was right on me, still not turning away, and I took one step backward. He stopped his ATV at my feet, looked at me, and deadpanned, "Coward." I burst out laughing, and so did he. So this is how they greet strangers in Nevada! I loved the state and its people from that point onward – what a great sense of humor they have! Dee didn't charge me a dime for looking at my car, and I went on my way, back up the mountain, greatly relieved to know that my little car was okay.
The road from Baker to Great Basin National Park is very interesting, and not in the way you might think. I began to notice odd things perched on the fence lining the highway. First I noticed a #10 tin can, stuck upside down on a fencepost, with eyes painted on it. Then I saw an old motorcycle helmet, also stuck on a post, with eyes on it, and a white scarf strung out behind it as if blown by the wind. Hmmm. Interesting. Farther up the road was part of a bicycle frame wired to the fence – just the seat post, seat and pedals, with sneakers attached to the pedals. Then a work glove with a smiley face on the palm, waving at passers-by. One fencepost was decorated with a snazzy tie and shirt collar. Now here is an old tire, wired to the fence, with a spider's web woven out of colored string in the middle. Then I passed a mound of dirt, out of which poked a pair of mannequin legs, adorned with cowboy boots. I couldn't read the sign stuck in the dirt next to it. My favorite was the old toilet, on which was perched one of those inflatable skeletons, its arms and legs all akimbo and a startled look on its skull-face. ("Can't anybody get any privacy around here?!") All-in-all I counted 21 of these delightful works of art lining the highway on both sides. Someone in the neighborhood is an artist who uses found objects to create whimsical works of public art. I asked the ranger if she knew who the artist was. She said no, nobody knows who it is, and every now and then a new piece will suddenly appear. How intriguing! And how entertaining. I have barely gone fifty miles into Nevada and already this state has impressed me with its originality.
At the campsite I found a beautiful site at the edge of a mountain meadow, with golden aspen trees, spruces, and a gorgeous view of Wheeler Peak. I wanted to be in the open so I could see the stars at night. I liked it here. Funny, when I was in the Rockies, camped near the continental divide in Colorado, I did not like the mountains. I felt intimidated by them and anxious to leave them. I concluded then that I just did not like being in the mountains. But here it was different. For some reason I loved these mountains. I felt none of the discomfort I felt in the Rockies. I wonder why.
While cleaning up after a delicious dinner, I watched a group of mule deer munching their way through "my" little mountain meadow. I noticed a man and woman standing on the road also watching the deer, and I waved to them. They came to my campsite. They are Joachim and Karen, tourists from Germany. Joachim spoke English fairly well but Karen did not, so he translated our conversation for her. They were very interested in my camping arrangements. I showed them my gear, my maps, my food and cookware. Karen liked my flowered cotton tablecloth, my fine china teacup and saucer and my little porcelain teapot, which I always take with me on camping trips because I like to enjoy my tea and meals in style. "Like home!" she said. Yes, just like at home. She was intrigued at the thought that I was doing all this by myself. They invited me to their camper for dinner, but since I had just eaten we agreed that I should come at 7:00 for wine. We had a wonderful time. They served red wine and cheese and grapes, and gave me some hearty dense German bread with butter, and dried fruit. We talked about travel and religion and family and work, and I marveled at how Germans get 6 weeks of vacation each year while we Americans are lucky to get two weeks. We laughed a lot! Joachim and Karen like to hike to the top of the mountain peaks all around the western U.S. I told them about how I felt "intimidated" by the Rocky Mountains. Joachim did not know that English word and he looked it up in his German-English dictionary. His eyes widened in surprise when he saw what it meant and showed it to Karen. I suppose they could not believe that a woman who could travel all across the country by herself could be intimidated by mountains! And when I explained that I did not feel that way about THESE mountains, they were even more puzzled. Oh, well, so was I. Finally it was time to go and my new friends walked me back to my tent. I pointed out constellations to them along the way and we gave each other big hugs before parting.
The next morning was cold and bright and sparkling. The five mule deer were grazing in the meadow again, and the bucks were locking antlers in a scuffle – I could hear the antlers click against each other. As I drank my tea I looked up and saw two figures standing in the trees at the top of the meadow. They were waving. It was Joachim and Karen! I waved back and smiled, and Karen gave me an enthusiastic two-arm wave. They are embarking on their hike to climb Wheeler Peak. Goodbye! What wonderful friends. I wonder if I will ever see them again – probably not. I regret that I did not get their last names and addresses in Germany.
Then I set off for a hike to the bristlecone pine grove, which was at about 10,000 feet on Wheeler Peak. It was an incredible hike, with views of the valley below. The grove of bristlecone pines is a holy place. These trees live for thousands of years. They are not big nor outwardly impressive. But they embody a hardiness and persistence that is inspiring. They live in extremely harsh conditions. The icy winds at that elevation literally sand the bark off the trees. The exposed wood is so smooth you can run your hand along the trunk and not get a splinter. But still they live to ancient ages. They are the oldest living beings on the planet. How can one not be in awe of that? The needles of the bristlecone pine hang in bushy bunches, soft and green and fragrant, dangling almost insouciantly on the branches, as if laughing at the hard climate they endure. I spent quite a long time with these trees. Another hiker was there too, quietly photographing the trees. We did not speak to each other, both of us wanting to preserve the reverent hush of the place. Finally I went back down the mountain.
It was time to continue west on Route 50. This is indeed "the loneliest road in America"! I drove long stretches during which I was the only vehicle on the road as far as I could see, both fore and aft, horizon to horizon. I tried to picture myself as seen from above, as if a camera were filming me from an airplane. Just me in my tiny teal-blue VW, puttering along on an endless stretch of lonely highway. I loved it! The vastness of the landscape, the series of mountain ranges divided by flat basins – it was so interesting to drive through. My next campsite was Hutchinson Petroglyphs Site near Austin, NV. I arrived there just as the sun was dropping behind the hills. I was hungry and tired, and I put up my simple "fair-weather" tent, because it has only four stakes to pound in and the ground was very hard. It was cold in the pre-dawn when I awoke. I walked to the ridges behind the campground and went to some high ground to watch the sun rise. A cold wind blew, and I thought, how many others before me have stood on this mound, feeling this wind, watching this sun? The ancient petroglyphs at this place were very unusual and interesting, and I had a strong feeling that they were made by women. It seemed to be a woman's place. I felt very much at home here.
I stopped in Austin for breakfast at a little café. Gas in Austin was $2.30 a gallon, the highest I had ever seen. I was glad I didn't have to fill up! I continued through the basin and range region, one range followed by a valley, over and over. I wonder how many ranges and valleys I have crossed? On one of these lonely stretches, I saw something I could hardly believe. There in the distance, a tiny speck – it looked like a man. Yes, it was a man, walking along the road. He was coming toward me, headed east. As I got closer I could see he was thin and very tan, and had a bushy black beard, and wore a wide-brimmed hat. He carried a backpack, on which were dangling many little pots and bags and sundry items. As I passed him I honked and waved, and he smiled and waved back. I was astounded. It is one thing to drive across this lonely land, but to WALK? I knew the nearest town, and water, was at least 70 miles away. I was so surprised that I didn't even think to stop my car and get out to talk to him and find out what he was up to.
My next stop was a rest area and park with more petroglyphs, but no camping. After looking at the petroglyphs I sat at a table to write in my journal. A man and his dog were nearby, and he invited me to join him for eggs and sausage. But I had had breakfast in town, so we just chatted. His name was Buck and his dog was Tootsie. He told me about his life. He was a retired police officer from Georgia. He traveled around the country in his van and liked to witness for Jesus. We both felt the Spirit as we talked about his ministry and the goodness of God in our lives. Then I remembered the man I had seen walking on Route 50 and told Buck about it. Buck knew of him. He said his name was Gabriel and that he was walking across America. He said he had a sign on his backpack that said "No Rides Please – America On Foot." Apparently people were always stopping to offer him rides, incredulous that anyone would actually want to walk across this desert. What a man! Now I was really kicking myself for not stopping to meet him. If anyone knows anything more about him, please let me know!
Along Rt. 50, before reaching Fallon, I saw some fascinating modern "petroglyphs"! The road passes through a dry lake bed, white and glistening. Along the highway, people have taken small black rocks and used them to spell out words on both sides of the road, in the white earth. "Jimmy Loves Erica." "Jesus Saves." Names, dates, smiley faces, odd figures: a great variety of signs and symbols. Imagine these marks covered over with sediment over time, only to be excavated by archaeologists in future millennia and puzzled over. "What could these mean?" they will ask themselves, just as we ponder over the Native American petroglyphs we see on the cliffs. Only we know for sure.
Once past Fallon, the "loneliest road in America" is no longer so lonely. I was approaching Lake Tahoe, California. Lake Tahoe is undeniably beautiful, but I prefer the beauty of the lonely distant place. Tahoe is so crowded and commercialized. I found a campsite on the western edge of the lake, at a state park. The trees are tall and graceful here. I slept beautifully under them, and was awakened early in the morning, before dawn, by a pack of coyotes whooping like a gang of rowdy teenagers. I did not stay long at Lake Tahoe. It was time to finish the last leg of U.S. Route 50.
Route 50 begins within sight of the Atlantic Ocean, as a simple 2-lane highway. It ends just west of Sacramento ignominiously (some may say proudly) as a multi-lane freeway absorbed into Interstate 80. I never was really sure exactly where the end of the highway is, nor could I find the sign that says "Ocean City, MD 3073 mi." I cruised the freeways for a while, then went into downtown Sacramento and booked a room at a hotel, where I stayed for two days. I needed to rest, and to ponder my accomplishment, and to decide…Where do I go now? I had no more westward to ho (on Route 50, at least) and was waiting for direction. Should I go north, to see Oregon, or south, where it would be warmer and drier? So much more to see and do!
I will take my time traveling back to Cincinnati. It took me one month to cross the United States via Route 50. This highway has taken me through the heart of the greatest country on earth. My next project will be to write a book about this journey. Thank you all for traveling along with me and allowing me to share some of my thoughts and experiences with you. I hope to hear from some of you, and if any of you embark on this magnificent journey yourselves, please contact me because you will be passing through my home town and I will want to meet you. We must promote Route 50 as a national treasure, and make sure it remains an intact cross-country highway and does not get swallowed up by interstates and lose its unique identity. This road takes you through the best of America, its landscapes and its people.
Thanks for all the well wishes and everyone's prayer. God bless you all. Donna
---
go back to US50, Coast to Coast