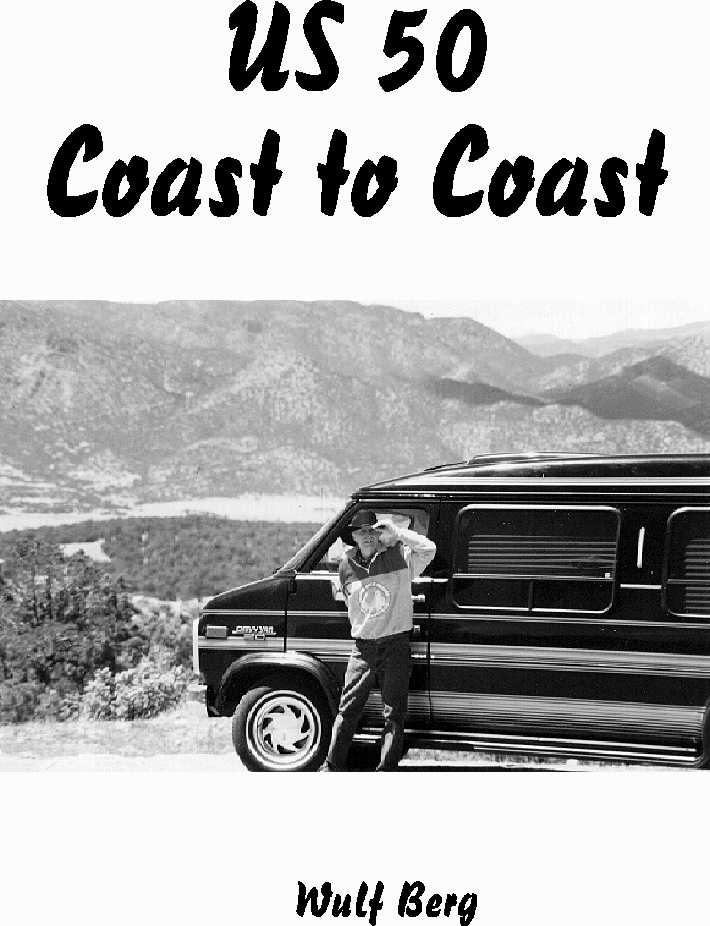 W e share and support efforts to preserve the American wilderness. On a journey across America, we met many wonderful people that share our concerns.
For two years we planed and prepared for a trip on US Route 50 from Ocean City, Maryland, to San Francisco, California. We believe that Route 50 crosses some of the most beautiful parts of America. On May the First we watched the sun rise above the Atlantic Ocean and departed on our journey to the Pacific Ocean where we observed the sunset twenty-one days later. Our trip was memorable and inspirational.
As we crossed the country we met and talked with people from different backgrounds and affiliations. Everybody was proud of his or her heritage and place of residency. Yes, America the Beautiful is the greatest country on Earth. We have sorted our notes and pictures and written this book about our trip along Route 50, the sights and the people.
We still can see the colorful canyons in Utah. As we crossed the Green River, our thoughts went with John Powell as he explored this territory in 1869. In Delta, we met Valerie Mason from the Chamber of Commerce. She gave us a lot of interesting information and asked us to write to our congressmen and senators to support Route 50 in the Preservation Act of the National Highway System. There is talk that Highway 50 should not be maintained as a national artery of the infrastructure. We promised to write our representatives in Washington to maintain funding for this beautiful scenic route. As we have seen and can attest, US 50 is of vital importance to tourism, not only for this country but also for many visitors from abroad who come and visit us.
I hope my book will encourage other to take a journey across America and see this beautiful country. Only those who have experienced the tranquility of nature will fight to preserve it
Our public land is not for sale!
---
Wulf Berg takes readers along on his journey from Ocean City, Maryland, to Sacramento, California, and back. Driving along Route 50 from coast to coast, he tells the reader what towns he passes through and what should be seen there. For fellow travelers who might want to take the same trip, or part of it, he advises them where to stay and where to eat.
He and his wife, Heide, rent a van for their once in a lifetime trip. Driving from one end of the country to the other, they learn to adapt to the small space, which is occasionally used for sleeping accommodations in lieu of motels. They also discover the first-time pleasures of camping.
Berg discovers in his journey the flavor of small town life and how townspeople have a sense of community and caring that is missing in large cities. He is often surprised at the friendliness and helpfulness of the people he and his wife encounter and laments that such neighborliness is not present in all areas of the country as it is in so many places along Route 50.
Nancy Powell
Staff Writer
Ocean City Today
---
About the Author
I, WULF BERG, was born in Cologne, Germany. My memories of World War II are limited to a few pleasant and a few traumatic experiences. After the war, I was fortunate to live with Swedish foster parents for one year. This spared me from many hardships and built a lifelong friendship with Sweden. In 1956, I immigrated to the United States. Since military obligation was a must in those days, I soon enlisted in the US Air Force. My first assignment was to Japan despite the fact that I had volunteered for Germany. Later assignments brought me tours to Germany. It was there that I married Heide, my wife. We have two children Cornelia Grace, born in Bitburg, Germany, and Roland David born in Laredo, Texas.
In 1978, I retired from military service. I attended Christopher Newport University and received a bachelor degree in information science. For the next fifteen years, I was employed by the Norfolk Naval shipyard. During my government career, I had many opportunities to travel in America and in many foreign countries. After of my first visit to Sweden at the age of nine, I have traveled to Asia, Australia and all the countries of Europe. This has given me a great appreciation for different cultures and sceneries.
---
The Route50.com website entitled "US 50 Coast to Coast" represents extracts from my book "US 50, Coast to Coast". US 50, Coast to Coast, is a numbered Limited Edition of five hundred copies. Each book is signed by the author to preserve its value as a family collector's item.
"US 50, Coast to Coast" will make your journey along US 50 more enjoyable. I share with you places that were of special interest to us. Some of the information is not covered in the ordinary travel guide.
To give this documentary appropriate representation, I selected fabrics and papers of exceptional quality. The book binding is in a rich looking Roxite linen fabric with gold foil die impressions. Approximately 65 pictures from our journey give a feeling of coming along. The entire trip is documented on approximately 200 pages and includes twelve separate maps.
The book "US 50, COAST to COAST" is a limited edition of five hundred copies. Each book is signed by the author to preserve its value as a collector's item.
Please take note:
As of 7/28/2009, all numbered books of "US 50 Coast to Coast" have been sold. Only five-hundred (500) numbered books were available. This limited addition is now a collector-item. Some books have already sold on the secondary market.
As the author, I had set aside for personal use an additional ten percent (10%). I made some of these books available to the general public. These books were serial numbered A01 to A50 and have a special seal. All have been sold.
I had a few complete sets of my book in unbounded form.
These sets were intended for educational use.
I had assembled these pages in a binder and signed each copy.
All have been sold.


Since the demand for my book continues, I have made it available in electronic form as an Ebook (PDF). Please go to www.Lulu.com and search for
US 50 Coast to Coast.


Please let me know when you purchased a book.
If you have a question, please get in touch and I will help to find an answer.

---