!== Copyright 2000 W. Berg Press. 12/01/2000 3:25 PM ==>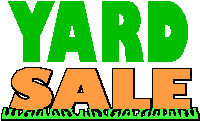 Wulf Berg
All information is Copyright (c) protected and provided as a community service without liability.

Eighteenth ANNUAL "GREAT U.S. 50 YARD SALE"
"THE NATION'S YARD SALE"
MAY 19-21, 2017



GENERAL INFORMATION

The eighteenth annual Great U.S. 50 Yard Sale will be held Friday-Sunday, May 19-21, 2017. The yard sale started in 2000, stretching across most of Indiana. The goal is for it to grow into a Coast-to-Coast event held each year on the weekend before the Memorial Day weekend. The Great U.S. 50 Yard Sale also serves to promote tourism along U.S. 50, to unite the many diverse communities, to provide opportunities for fund raising by civic organizations, to aid the environment through recycling, and to serve as an opportunity for individuals to enjoy a great weekend of sales.

While promoted as a yard sale, the actual sales are limited only by the imagination and law. Individual communities and businesses along U.S. 50 are encouraged to have special promotions during this weekend. Vendors, especially antique and craft dealers, from all over the U.S. are welcome to join us.

This is a non-sponsored event, meaning that it is not promoted by any particular organization, but represents the efforts of volunteers and those who wish to promote their communities. As such, the nature of the sale will vary along the route. U.S. 50 is Constitution Avenue in Washington, DC. It is Wyatt Earp Blvd in Dodge City, Kansas. It crosses mountains and deserts, as well as farm land. In some communities U.S. 50 is now a super highway and the sale route might follow Old 50. With such diversity, many decisions will have to be made at the local level. The best source for specific and up-to-date information is to follow the Connect-to-County links.

The official yard sale is over three days. There are no set hours. (If you have ever had a yard sale, you know that advertising set hours never works). Also, given the nature of yard sales (and the history of last year), it is probable that many individual households will not decide to participate until just a day or two before the sale dates. The best option for buyers is to locate a participating county and then just head down the road.

IMPORTANT: Please note that all sales are subject to local laws. Also, no one is to set-up, sell, nor park on the state right-of-way at any time. U.S. 50 is both the Loneliest Road in America and an extremely busy highway. Safety is a primary concern. All sellers should allow for parking and everyone should avoid being on the state right-of-way.

SPREAD THE WORD

The National Coordinator for the U.S. 50 Yard Sale is Tom Taylor of North Vernon, Indiana. totaylor@seidata.com While the sale is still in its infancy, last year¹s experience showed if you build it, they will come. A key to making this sale a success is to let people know it exists. Please forward the www.route50.com site to friends.

Media outlets are encouraged the include information about the yard sale in their broadcasts/publications. Merchants along U.S. 50 are encouraged to post signs advertising the event. Especially desired would be volunteers willing to receive some flyers via e-mail and then to print and distribute them, either by posting them in a community or having them available as handouts in a shop. Contact totaylor@seidata.com if you want some flyers. You do not need permission to spread the word, as all publicity is welcome as a key to the event's success.

COORDINATE A COUNTY

The nature of such a large event requires the need for coordination on a local level. The word coordination is perhaps too large as the person is more of an information source than a coordinator. Businesses, organizations, and individuals set up their own sales and the coordinator really has no responsibility in those areas.
The primary responsibilities of a County Coordinator are:

1. Help advertise and promote the sale within the county

2. If there are needed decisions relative to local needs, make those decisions. (Examples: U.S. 50 is now a bypass, so a decision is made to follow Old 50. or a small community wishes to have a community-wide yard sale, as opposed to limiting it just to U.S. 50.)

3. Serve as a contact for two groups of people - Those from out of town looking for selling space and locals with space to rent along U.S. 50. (The easiest thing is just to keep a list of those with space to rent, either on a web page or where it can be quickly e-mailed back. The coordinator is not involved in setting prices nor any other aspect of deal making other than just providing information about who is willing to rent space.)

4. Answer e-mailed questions from those seeking information.

5. Contact local law enforcement a week before the sale and ask that they help patrol the route during the sale, particularly factors related to safety.

It is essential that a local coordinator be on e-mail. It would be ideal if the coordinator could have a web page where information could be listed as to known sales sites, contact information for those offering space for rent, hotel/motel information, and restaurant information. This, however, is ideal - not required.

NOTE: IN BECOMING A COORDINATOR, THE INDIVIDUAL AGREES TO HAVE THEIR CONTACTS LISTED ON THE CONNECT-TO-COUNTY LINK ON THE
< WWW.ROUTE50.COM > SITE.

Ideal candidates for county coordinators would be local tourism officials, local newspapers, local radio stations, antique stores, etc. Media are welcome to become a local sponsor and use the event for their own promotional purposes. This stated, we also welcome individual community-spirited citizens who just want to help.

If no coordinator is listed for your county and you want more information about becoming the coordinator, contact < totaylor@seidata.com >.

COMMUNITY IDEAS

The Great U.S. 50 Yard Sale is a perfect opportunity for schools, churches and civic organizations to make money. It can also be coordinated with other community activities into an overall theme.

1. Recycling - Many communities have spring recycling days. The most environmentally friendly type of recycling is for the item to be put to a new use by someone else. If your community has a recycling day, why not schedule it the week after the sale? Rather than taking a working stove to the landfill, try selling it first.

2. Business Promotions - U.S. 50 remains the Main Street of many communities in America. Perhaps the local Chamber of Commerce can encourage sidewalk sales and other promotions during the Great U.S. 50 Yard Sale. Motels and Restaurants can also run special promotions for the sale weekend.

3. The Yard Sale as Fund Raiser - It is likely that there will be out-of-town sellers looking for places to set-up. A school, church, or civic organization can locate a large parking lot or field and set-up space for vendors. This space could be rented out for the weekend. If you gathered enough vendors, you could also charge a small fee for parking or for entry.
(This fee is not taxed or usable for a tax deduction it goes straight to you wallet.)

The Great U.S. 50 Yard Sale is generally free, but most potential buyers would be willing to pay a dollar or two parking/entry fee if they knew there were, say, 100 vendors in one spot. If the local Band Boosters can attract 100 vendors and charge them, say, $30 set-up fee for the weekend, that is $3,000. If 2,000 people visit and pay $2 entry fee each, that is another $4,000. The organization earns $7,000 that weekend. It is less time involvement than a month-long candy sale and 100% of the proceeds stay with the organization.
The money made by the boosters may or may not be taxed before arriving at it's final destination. You may have to check any online tax preparation programs to be completely sure of this.

4. Sowing Seeds - The Great U.S. 50 Yard Sale attracts visitors along a route they might otherwise not travel. Having once visited, it is likely that many will want to return at other times of the year. This is a great opportunity for communities and businesses to have promotional materials available for distribution.

INFO FOR SELLERS

The fun of The Great U.S. 50 Yard Sale is that it can include the sale of anything legal. Each seller is in charge of his/her own sales site. In many ways, the U.S. 50 Yard Sale could best be described as ³regular yard sales, but everybody having them the same day. The following additional information may be helpful-

1. Safety and the Law - All sellers must abide by local laws regarding such sales. All sellers should also consider safety, being particularly careful about providing off- road parking for buyers. No one is allowed to sell, nor park on state right-of-way.

2. Individuals Living Along U.S. 50 - Persons selling in their own yards are not required to do anything (subject to local law) other than arrange their own sale for May 20-22, 2016. As a courtesy, however, it would be nice to contact the County Coordinator so that she/he has some sort of idea of where sales will be located.

3. Businesses - As with individuals, businesses do not need permission to participate in this event, but are encouraged to help promote the U.S. 50 Yard Sale by referring to it by name in any related advertisements. They are also encouraged to inform the County Coordinator of their efforts so that she/he will have that information. Local antique shops are particularly encouraged to coordinate with one another and to help to promote this event.

4. Sellers from Out of Town Needing Space - You are first encouraged to check the Connect-to-County list to find participating areas within your region. Please check this regularly as the list will change weekly all the way up to sale week. You should then contact the appropriate County Coordinator to ask for a list of individuals/clubs/ businesses offering space for rent. You may then directly contact those offering space.

5. Sellers Living Near U.S. 50 - One lesson learned from last year was that many people who lived from a block to a couple miles off U.S. 50 wanted to participate in the sale, but did so by erecting signs such as Yard Sale, Three Blocks South. While persons are welcome to do this, experience shows that many buyers, particularly out-of-town buyers, focus on making a ³straight run² on U.S. 50 and do not go to these side sales. We welcome all sellers - the more sellers to more buyers who will come. This stated, we also believe most sellers will benefit by finding space on U.S. 50.

INFO FOR BUYERS

The nature of this event is such that it is impossible to provide anyone with a list of sales prior to the sale dates. Many sales will be held by individual families in their own yards and they do not need permission of the organizers to participate. The best advice for buyers is to go to the Connect-to-County page. Locate a county that has a coordinator and click the link to that person to ask for information about that county¹s participation. It was this writer¹s experience last year (the second year of the sale) to travel a twenty-five mile section of U.S. 50, not knowing what to expect. What was found was 75+ sales, including several sites with multiple vendors. (There was another stretch of about fifteen miles where I found no sales.)

While the sale route will generally follow U.S. 50, it may detour in specific communities to follow the Old Route or for other routes. Where communities make such changes, it is anticipated they will post signs.

Please remember to park safely and never park on state right-of-way.


CONNECT-TO-COUNTY

This list will be updated weekly. For information about becoming a County Coordinator, contact Tom Taylor < totaylor@seidata.com >. Join the fun, volunteer, and have your community included.

To get more information about The Great U.S. 50 Yard Sale for specific locations,
please click the appropriate link:
For additional exposure, list your garage sale for free at

CALIFORNIA

Sacramento County

El Dorado County
Lake Tahoe Visitors Authority
PO Box 5878, Stateline, NV 89449
Phone (775) 588-5900

NEVADA
Fallon
Client Services
Churchil Economic Develpoment Authority
448 West Williams
Fallon, NV 89406
Contact: Ivy Wards
Phone: 775-426-8587 (O) 775-223-4721 (C)
Email: ivy@ceda-nv.org

Douglas County

Carson City

Lyon County

Bread of Life Christian Fellowship
Contact Becky Melendez
10042 Hwy 50 East
Moundhouse, NV 89706
We are having a Yard Sale, Carnival and a Health and Safety Fair.
We will be having a Bounce House for the children,
Food, Games and a Fun time.
Email: or call (775)-220-9696
For yard sale booth: Call (775) 246-9997
For Health and Safety Fair: email:
Dayton
Stagecoach Economical & Environmental Development Services.
Contact person: Margot Easley
Phone (775)-721-2493
PO Box 1956 Dayton, NV 89403.
Email doiteasley@aol.com
Silver Springs
St. HUGHS OUTREACH CENTER
4280 US HWY 50. Silver Springs, NV
(775)-577-9606
Is holding their Annual Spring Fundraiser Craft Faire during The Great American Yard Sale
May 19 - 20th 8am - 3pm
Spaces Available at $5.00 per day.
You must provide your own table, sun shade, and seating.
Our contact person is Norma Kennemer. The phone number is 775-577-9606
and email is administrator@sthughoflincoln-silverspringsnv.com to get a space
Desert Phoenix
3315 Hwy 50 Silver Springs, NV
(775) 220-9508 (775)220-3036
Outdoor spaces may be available
Antique Link & Collectibles
Located at the corner of Hwy 50 and Hwy 95A
1060 S. Hwy 95 A
(775)577-9106
www.antiquelinknv.com
Spaces available for FREE on a first come bases.
You must set up in line with the front of our building or behind that line to be off NDOT right of way.
You must clean up after your self.

Churchill County

Lander County

Eureka County
Patty Bice
Eureka County Economic Development Program
P.O. Box 753, Eureka, NV 89316
Tel: (775)237-5484, Fax (775) 237-5175
Email econdev@eurekanv.org
www.eurekacounty.com
Sale will be Saturday May 21, 2016 8AM - 3PM
along Hwy 50 in front of the Courthouse.

White Pine County
Wayne Cameron
Executive Director
White Pine Chamber of Commerce
636 Aultman Street
Ely, NV 89301
775-289-8877
www.whitepinechamber.com
www.elynevada.net
wpcc@whitepinechamber.com


UTAH

Millard County

Sevier County

Emery County

Grand County

COLORADO

Mesa County

Delta County

Montrose County
The Downtown Development Authority in Montrose is going to host a Highway 50 Yard Sale in Montrose.
We will be closing 3 blocks (300-500 block) with Yard sale on Main Street and Sidewalk sales from the stores downtown.
The event will take place on 5/21 from 8am-4pm.
Space on main street will be rented for $10 for a 10x10 space.
The cost of the space goes to offset the permit to close the street.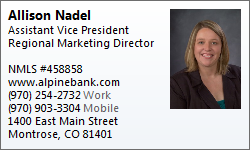 Please let me know if you have additional questions.
Thanks, Allison

Ridgway-Ouray Community Council (ROCC)
Parking Lot Sale

Location and directions
Ridgway is a lovely community about 25 miles south of Highway 50 in Montrose.
From Montrose, take Highway 550 south to the Highway 62 intersection and continue on a few hundred yards,

then turn right/west into the parking lot of the Ouray County Fair Grounds 4-H Center.
The sale is on the grounds surrounding the 4-H Event Center

Saturday May 21
8:00-2:00

Music and Beer Tasting in PM

At the Love Your Valley Festival-Ridgway Town Park

For more information

Richard Niemeier
email: rniemeier@yahoocom

970-964-5325


Gunnison County

Chaffee County

Salida Business Alliance is having a garage sale at Collegiate Peaks Bank
Contact: Vickie Sue Vigil at the Mountain Mail, 539-660
Donated items can be dropped off at Collegiate Peaks Bank
on Friday, May 15th from 5 to 7 pm, or Saturday, May 16 at 7am


Town of Poncha Springs
Diana Heeney
Clerk/Treasurer - Phone 719-539-6882
E-mail clerk@ponchaspringscolorado.us

Town of Maysville, CO
South Arkansas Landowners Association
Yard Sale at the Red Schoolhouse in Maysville
Right on the South side of Highway 50
Plenty of safe parking off of the highway - kid and pet friendly!
Lodging available - just ask!

You may miss Maysville but you can't miss the Red Schoolhouse!
All proceeds go the the restoration project.
We have GOOD STUFF - Clothing for work and play, Camping, Sports, Hunting.
Furniture, Household, Kitchen. If you want it we'll go home and get it!
For information contact: Michael Meyer
Facebook: www.facebook.com/profile.php?id=100001533914806
E-Mail maysvilleco@gmail.com


Fremont County

Town of Cotopaxi
Catherine L. Bland
Phone:719-942-3221
Fax: 719-942-3072

CANON CITY CHAMBER OF COMMERCE "PROSPECTORS"

WILL HOST THE HIGHWAY 50 YARD SALE!

PRIMARY LOCATIONS INCLUDE:
DEPOT PARK at 9th & HWY 50
SEVERAL BUSINESSES ALONG HWY50 WILL ALSO BE PARTICIPATING IN PARKING LOT SALES!
the spaces are limited and are available beginning March 28th

IN ADDITION TO YARD SALE,.....STOP BY and enjoy other weekend activities which will be posted as they are being planned:
FLASHBACK MAIN ST. SOCK HOP FREE! - SATURDAY NIGHT - CONTESTS/PRIZES
FEATURING MUSIC BY LOCAL BANDS
also:
the ROYAL GORGE BRIDGE AND PARK WILL BE OPENED featuring the amazing "suspended" bridge over the Arkansas!
CONTACT: DEE STUBBS for Hwy 50 Yard Sale 719-275-6482 after March 28, 2014
OR EMAIL: deespace2001@yahoo.com



North of Jerry Murphy Blvd just off Highway 50 ( Canon City exit east) -
The University Park Neighborhood will be participating
in the Cost to Coast Yard Sale.
There will be signs posted along the route showing individual homes
participating in this special event.
There will items from soup to nuts, small items and large items.
Kids will be selling coffee and donuts,
there will be food stands and Penelope will be present
to answer questions as well.
This neighborhood consist of approximately 400 homes.
Contact Linda Neff (712) 543.1687 <marlin4952@hotmail.com>
for further information.

Canon City
Space available
101 Tunnel Drive (corner of U.S. 50 and Tunnel Drive)
Fri May 15 & Sat May 16th from 8am-3:30pm.
Shelli Tezak

- e-mail <s_tezak2@msn.com
call: 719-671-1788

Presbyterian Women of Penrose Colorado (PWPC)
will participate in the great Highway 50 Yardsale indoors this year.
The wind wins! Come on down to the basement!
Our event will take place at Kirkwood Memorial Presbyterian Church
at 5th and Grant in downtown Penrose, CO.
on Friday May 15th & Saturday May 16th from 9 am to 4 pm. (Church is at 10:30 on Sunday)
This will be our 3rd year participating in the Highway 50 Yard Sale.
The proceeds will be used to support the many church functions.
Contact Kathy Eshelman (719-372-3830) penroseprez@bresnan.net

Town of Howard
7778 US Highway50
Items for sale (Antiques):
2 oriental rugs, commercial cook stove, cupboard with flour dispenser,
shoes & purses from the 40's, lamps, Weller vase,
also machinist tools with tool box, household goods and free items.
For more information contact:
Kathleen Hulsey kathleenhulsey@earthlink.net
Phone: 719-942-3447


Pueblo County

Otero County

Bent County

Prowers County

KANSAS

Hamilton County

Kearny County

Finney County

Gray County
A city wide yard sale is planned
County Coordinator
Cimarron, KS
Telephone: 620-855-2382
Email: speedtype@yahoo.com

Ford County

Edwards County

Stafford County

Reno County

Harvey County

Marion County

Chase County

Lyon County

Coffey County

Osage County

Franklin County

Miami County

Johnson County

MISSOURI

Jackson County

Johnson County

Pettis County

Sedalia, Mo
will have vendors for the US 50 yard sale Friday through Sunday.
The historic Katy Depot, 600 E. Third St. has spaces.
Shop from 9 a.m. until 3 p.m.
Directions, 3 blocks north of 50 at Hancock Ave.
Off-street parking is available.


For more information, contact
Deb Biermann

<katydepotsedalia@gmail.com>

Historic downtown on Main Street, just a few blocks north of 50 Highway
Several locations on Ohio Avenue
State Fairgrounds, just south of 50 Highway on 65 Highway
Golden Antiques 2513 E Broadway (which is 50 Highway)
Stop and Shop Flea Market
6125 Highway 50, one mile east of Sedalia city limits
For more information, contact
Toby Dorr <tobydorr@gmail.com>

Morgan County

Moniteau County

Cole County

Osage County

Gasconade County

Franklin County
I
St. Louis County

ILLINOIS

St. Clair County
Joe Zimmerlee
City of Lebanon Chamber of Commerce
10th Year Anniversary to a Citywide Spring Yard Sale
221 W. St. Louis St.
Lebanon, IL 62254
Tel: 618-537-8420
Email: zim2006@sbcglobal.net


Clinton County

Marion County

Clay County

Richland County

Rene Bennett
US 50 yard sale county coordinator
Email

ATTENTION RICHLAND COUNTY!
Time is running out but we can still put together some sales along US 50 or Old Route 50.
If you have a yard, parking lot, building, or an unused field, you can rent out a booth space.
if you have 1 or 100's of spaces available please contact me.
You are in control of the terms of usage of your land.

If you have items to sell, or a business or organization to promote and
would like to find space to fit your needs,
Please email me and I will get back to you within 24 hours.
Please put "US 50 Yard Sale" in the subject.

Lawrence County

Paula L. McKim
Administrative Assistant
Lawrence County Chamber of Commerce
619 12th St
Lawrenceville, IL 62439
Phone- 618-943-3516
Fax 618-943-4748
www.lawrencecountyillinois.com
e-mail:



INDIANA

Knox County
Shyla Beam - Executive Director
Vincennes/Knox County Visitors & Tourism Bureau
779 South 6th Street Road
Vincennes, IN 47591
Phone: 812-886-0400
Phone: 800-886-6443
http://www.vincennescvb.org
Email info@vincennescvb.org


Daviess County & Martin County

In collaboration with the US 50 Yard Sale,
Daviess County will be having the Rail Fest on Main Street & Depot Street in Washington,
Heartbeat of Washington Battle of the Bands and Vendor Fair on Main Street
and Wool Fiber Arts Fair at the Conservation Club in Washington.

Space Available - Decker's Bakery, corner of U.S. 50 and SW 2nd ST.
Decker's Bakery is willing to let people set up on their lot.

Angle Inn in Washington will have approx. 10 spaces available for people to
set up booths. The address is 710 W. Natl. Hwy 50.

Yoder's Automotive, Corner of US 50 and SW 2nd St, east side of parking lot.


Martin County Chamber of Commerce
martincountychamberofcommerce@gmail.com--

Carolyn Parsons-Downey
PO Box 257
210 N Line St
Loogootee IN 47553
812-295-4093


Lawrence County


Executive Director
Lawrence County Tourism Commission
533 W. Main St.
Mitchell, IN 47446
Phone: 812-276-2074 Cell: 812-583-1081
800-798-0769 Fax: 812-849-0168
www.limestonecountry.com

TIMELESS TREASURES
Contact: Beck Allen
1749 US HWY 50 E
BEDFORD, IN 47421
Tel.: 1-812-277-0283
E-MAIL: beckstimelesstreasures@gmail.com




Jackson County

Jane Hays
Jackson County Visitor Center
100 N. Broadway Street
Seymour, IN 47274
Phone 1-812-524-1914
Toll free 1-855-524-1914
Fax 1-812-524-1915
E-mail: jane@jacksoncountyin.com

Brownstown Lions Club, Brownstown, IN
has has FISH FRY in conjunction with the US 50 yard sale
We are at the Jackson County Court House Square,
at approx. 92.7 mile marker
Contact: John Wm. Spurgeon, Sec.
Email: john@jcia40.net


Jennings County

Jennings County Visitors Denter
375 N Hwy 3&7
North Vernon, IN 47265
Tel: 1-812-346-4865
Tel: 1-800-928-3667
e-mail <visit@Jenningsco.org>

Rockey Top Truck Stop - 100 Space available
six miles west of North Vernon
Tel: 1-812-346-9909

Amvets Post 7
North Vernon
Hunter Dean & Kathleen Patton
Commander
Email: dkpattons@gmail.com
Parking lot sale off of Hwy 50 this year!


Ripley County

Katherine Taul (Exec. Dir)
Ripley County Tourist Bureau
220 East U.S. 50, P.O. Box 21
Versailles, IN 47042
Tel: 1-812-689-7431
e-mail <rctb@ripleycountytourism.com
www.ripleycountytourism.com


Dearborn County

OHIO

Hamilton County

Community of Riverside
Gilday Recreational Complex
3450 Southside Ave (at River Rd), Cincinnati, OH 45204

Saturday, May 16, 8a-3p
Many vendors, lots of stuff!
Contact for booth info: Pam Zelman, 513-382-6195

The Village of Cleves (45002)
will be participating in the "Great US 50 Yard Sale".
You can find us on
www.cleves.org or www.facebook.com/villageofcleves

Three Rivers Education Campus
will be participating in the "Great US 50 Yard Sale"
on Saturday, May 21, 2016, 8:00am - 12:00pm.
Located in the school parking lot on Cooper Road just of US 50.
Sponsored by the Taylor High School Parent Teacher Organization (PTO)
www.threeriversschools.org/threeriverseducationalcampus.aspx

North Bend
Buckeye Trading Post will be participating
Yard Sale on the Property
11294 US Highway 50
Contact: Shannon Vinson


phone 513-353-0284 - cell 812-584-1100


Email shannon5@zoomtown.com
www.buckeyetradingpost.com


Clermont County
City of Milford - City-Wide Yard Sales
Lori Pegg, Community Services Manager
745 Center Street, Suite 200
Milford, OH 45150
Phone: 513.248.5092
Fax: 1-513-248-5096
www.milfordohio.org
www.facebook.com/milfordohio
e-mail: lpegg@milfordohio.org


Brown County

Highland County

Kim Abbott
Economic Development Coordinator​
City of Hillsboro
Heather Collins
Special Administrative Assistant
City of Hillsboro
130 North High Street
Hillsboro, Ohio 45133
P (937) 393-5219
F (937) 393-0516

www.hillsboroohio.net
https://www.facebook.com/pages/City-of-Hillsboro-Ohio/346976258735592
"This institution is an equal opportunity provider, employer, and lender."

Hillsboro is gearing up for the sale!
Here's a link to our Event page: https://www.facebook.com/HillsboroOhioRt50YardSale

Here's information for people wanting booth space:
Join the City of Hillsboro, Ohio on May 20-22, 2016 for a weekend full of fun and bargains
as we participate in the nationwide Rt. 50 Coast to Coast Yard Sale.
Booth rental is available at $50 for a 10x10 space at the following locations:
• Roadside Rest on east side of town
Hosted by Altrusa
Contact: Nancy Graves at 937-393-3887
•Psychelic Barn on west side of town
Hosted by Relay for Life
Contact: Cindy Wilson at ciwilson@yahoo.com
ARTISTS AND ANTIQUES ONLY
•115 E. Main Street (Eloquence)
Hosted by Local Artists
Contact: Maddie Cupp at cuppma@gmial.com or 937-403-7386
In addition to the yard sales, the City of Hillsboro businesses will be holding sidewalk sales.

We will also be celebrating Military Appreciation Weekend with the town decorated in red, white and blue!​
Ross County


Vinton County

Sojourners is a nonprofit youth development organization.
We will hold a yard sale on Friday, 16 and Saturday , 16 May
on our campus at 605 West Main Street in McArthur, OH on US Route 50.
We will sell lots of collectibles, dolls, comic books, wrestling cards,
candles and candle holders, party supplies, and wrapping paper.
Shelly Horvath
Director of Communications
Email shellyhorvath@yahoo.com

Americorps*VISTA - ReUse Industries
Emily Camm
Volunteer Coordinator
740-698-8200 ext 15

Athens County

Mike Kubisek


2731 Lottridge Road
Guysville, OH 45735


Phone:740 818-5243


Email mikekubisek@live.com


Washington County
Marietta/Washington County CVB
121 Putnam Stree, Suite 110
Marietta, OH 45750
1-800-288-2577
e-mail: info@mariettaohio.org

Belpre OHIO
SATURDAY, MAY 16 9 A.M.-2 P.M.
Howe's Grove Park, Belpre
12x12 space $10
Info. and registration online at
www.belprechamber.com
or call 423-8934


WEST VIRGINIA

Wood County

Mrs Carol Tracewell
Telephone: 1-304-422-4843
e-mail: born2bdixie@yahoo.com
Check this Blog: http://us50woodcowv.blogspot.com/


Ritchie County
Historic Post Office and Bank of Cairo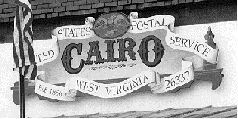 Main Street
Cairo , WV 26337
304-628-3777 / 888-379-7873
e-mail: rctourism@zoominternet.net


Doddridge County
Saturday, May 16
at the Doddridge County Center for Children and Families.
It is located on Old Route 50, approximately 1 mile on the Right from the Smithburg Exit
Contact Melody Glasscock
e-mail: vistamelody@yahoo.com
Phone Number: (304) 873-1149 work or (304) 904-2316 cell

We will be renting space to vendors. If anyone is interested, the deadline to rent limited INDOOR space is Friday, May 12, 2016.
Outdoor space is also available to rent up to the day of the event.
Vendors may set up on Friday, May 19, 2017.
Food will be sold by the Doddridge County Family Resource Network the day of the event.


Harrison County
Clarksburg Court House Plaza and S. 3rd St. from West Main to Washington Ave
Contact: Tammy Gragg at (304)-266-5585


Emai: tammy.pwa2017@gmail.com


Taylor County
Olive Ricketts
3576 Webster Pike
Grafton, WV 26354
304-265-5549
e-mail: ajhouse26354@yahoo.com

Preston County
Carol Castle - Space Available
Rt. 1 Box 1196
Rowlesburg, WV 26425
phone 304-454-9744
email:
Located on Rt. 50 about 10 miles west of Aurora and 4 miles east of
Cool Springs Park or 26 miles east of Grafton near the Cheat River Bridge.

Grant County

Mineral County

Linda & Frank Roleff
Mineral County Historical Foundation
Historic Old Stone House "Traveller's Rest"
near Burlington, WV on Rt. 50 (large parking lot)
phone: 304-788-5129
email:


Hampshire County

Hampshire County Convention and Visitors Bureau
91 South High St., Romney, WV 26757
West Virginia's Oldest County
http://www.cometohampshire.com/
(304)822-7477

T
VIRGINIA

Frederick County

Clarke County

Fauquier County

Loudoun County

Rosanna Funiciello Smith
Bella Villa - Furnishings & Accessories
"Treasurers on the Turnpike"
http://www.villageofaldie.com/bicentennial/treasures.htm
39478 John Mosby Hwy (Rt 50), Aldie, VA 20115
Telephone: (703) 327-5313
Email: villageofaldie@yahoo.com

Fairfax County

District of Columbia

Lorrain Z. Cooper
Lzc420@aol.com

MARYLAND

Garrett County
Jonni Hunt
Garrett County Chamber of Commerce
14 Visitors Cent Drive
McHenry, MD 21541
Phone: 1-301-387-4286
e-mail: info@GarrettChamber.com

Prince Georges County

Anne Arundel County

Queen Anne's County & Talbot County

Wye Mills
Chesapeake College
US 50 @ Rt. 213
Saturday only, 8:00 AM-12:00
Contact: Becky Fauver
email: rfauver@chesapeake.edu


Dorchester County

Wicomico County

Saturday & Sunday
Weekend flea market held in a large city parking lot at the
corner of Rt. 13 & Rt. 50 in Downtown Salisbury, Maryland.
Spaces are $10 a day, mention the Rt. 50 Yard Sale and get a space for $5
Please bring your own table.
I have been there. Great Place!
Michael Day
Salisbury, MD
Phone 1-410-603-3930
e-mail: sburyarch@aol.com
We have a Web site www.parkandflea.com


Worcester County

click here
---

San Francisco Lake Tahoe Interior Example
If you are planning your own journey from Coast to Coast,
or even a shorter road trip, why not take a break during
your travels and stay in a luxury rental at a timeshare resort.
Available in various cities along US Route 50,
timeshare rentals are a great alternative to standard hotels.
After all, why rent a hotel room night after night when you can rent
an apartment equipped with a kitchen and private bedrooms for the same price?
---
This page is linked to US 50 Coast to Coast Travel Site.