!== Copyright 2000/2 W. Berg Press. 04/10/2002 ==> <!== The following HTML tags are the header and title tags. ==> <!==These tags allows you to specify a title for this page. ==>

<!== The following HTML tag is the body tag. This defines the body portion of this page or document. ==> <!== The following HTML tag is the image tag. This tag displays an image from the specified source (src). ==>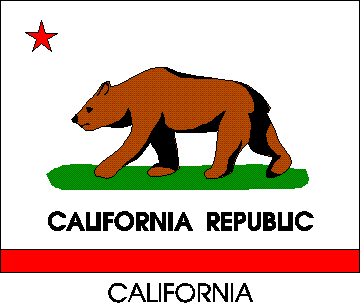 <!== The following is an HTML headline tag. Values for this tag range from H1 (largest) to H6 (smallest). ==>

US 50 -- California
Copyright 2012 W. Berg Press
---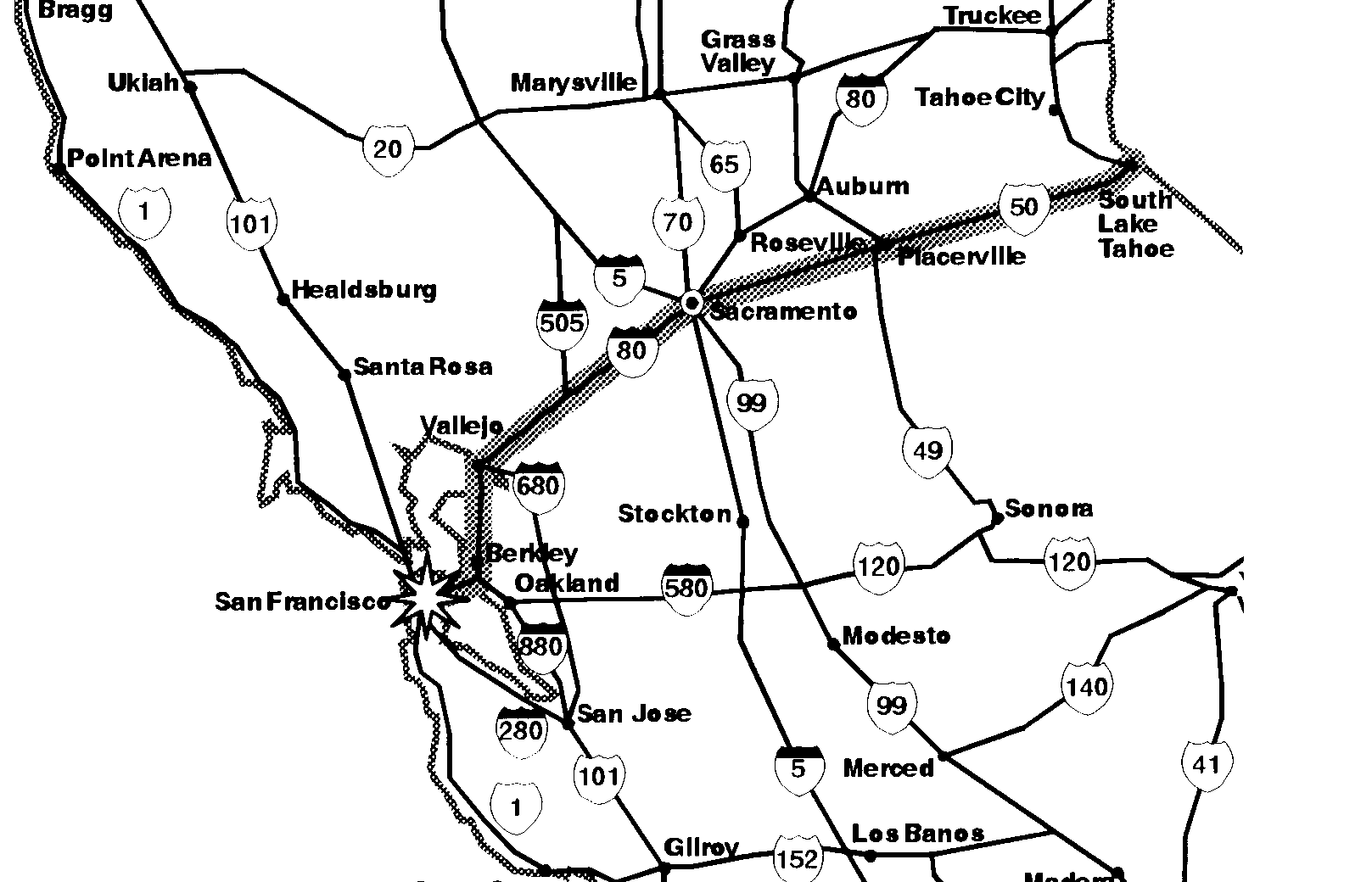 Welcome to California—The Golden State.
The capital is Sacramento. - State motto is "Eureka - I have found it".
On day twenty of the journey we hope to reach our destination. We have dreamed about seeing the sun set on the Pacific. It now feels like graduation day before you get your diploma.
We stayed last night in South Lake Tahoe. One must experience beautiful Lake Tahoe with its towering pine trees. Just be careful that none of those pine cones falls on your head. The size of the pine cone can be as large as 10 or 12 inches in length and 7 inches in diameter. They make beautiful Christmas decorations.
Lake Tahoe is the deepest alpine lake in North America. It lies in this beautiful valley of the Sierra Nevada among snow-capped mountains at an elevation of 6,228 feet. The lake has a depth of 1,640 feet.
The historic Lincoln Highway runs from New York to California. In California it followed US 50 from the beautiful south shore of Lake Tahoe to San Francisco.

To leave the Tahoe basin, we must climb up to 7,382 feet and pass over the Echo Summit. This brings us back in the snow region. The scenery of the Eldorado National Forest reminds us of Switzerland or Austria, which we have visited on many occasions. The road is as winding as in those countries. In fact, the eastern slopes of the Sierra Nevada are nicknamed 'California Alps.'
The drive from Tahoe to Placerville is a very dignified and a pretty ending for US 50. It is more a drive through a park than a highway. We have now descended below 3,000 feet. In early days, Placerville was known as 'Hangtown.' Citizens witnessed law and order of a 'necktie party' from the Hangman's Tree. Pony Express still Delivers. Historical Re-enactment Gallops through the country. For more information link to Placerville. Today the town is peacefully surrounded by orchards, ranches and vineyards. You may want to check out the Camino Hotel located 7 miles east from Placerville. Mention Route50.com and you will receive a special welcome.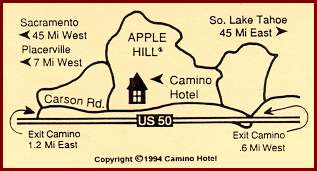 As we cross the Sacramento county line, we can see the skyline of the city in the distant haze. This is the first skyline we have seen since Kansas City, about 1,500 miles ago. Oh, yes, we saw skylines—the grain elevators in Kansas—that's what they called skylines.
We're coming to the end of Route 50 which has been a faithful companion to us for the last 20 days. What a journey it was! What a memory we have! It was a lot of fun. It was very rewarding and interesting.

US 50 enters the Sacramento freeway infrastructure as a proud, eight-lane highway. It moves traffic for the city of Sacramento. We have located the last official location with reference to Highway 50. It's a call box with the reference of: YL-50-01. It is at the intersection where we merge into Interstate 80 going west to San Francisco. If you go in the opposite direction, you can see a sign "US 50 Lake Tahoe." That's where you can start your travel going east towards Ocean City, Maryland. It has been a pleasure to drive this road for 3,547 miles. It is a proud road with a great heritage that crosses many parts of our beautiful land. We feel the same pride for the experience and joy that this trip has given us. A thank you to all the people we met and their encouragement.
We now continue on I-80 towards San Francisco, where we will reach the Pacific and hope to see the sun set in the West. This is the same sun which rose in the East above the Atlantic many hours before we awoke this morning.
We stop at a very nice rest area just before Vallejo. From here we have a good view of the city below. Like all cities in California, it is booming, it is a modern city, and its pace is fast. Time does not stand still in California. Time is running ahead. After a cup of coffee, we continue on I-80 to Oakland and take the San Francisco-Oakland Bay Bridge into San Francisco. Makes no difference what time of day you come, traffic is congested. We can see the Bay Bridge and the skyline of San Francisco in a haze, which gives it a kind of ghostly effect.
There is a $2 toll to cross the San Francisco-Oakland Bay Bridge. To collect the tolls, there are 17 toll booths and we form one of 17 queues that serve traffic from various directions. This is quite a task and quite a show. After we pay our toll, the 17 lines must merge into five individual lanes. The first merger is done with the assistance of a computer. After that comes courtesy—one car from the right, one from the left and one from the center. Ultimately five lanes go across the bay. It works really well, and a little bit of courtesy goes a long way.
The Bay Bridge is actually two bridges. One goes from Oakland to the Yerba Buena Island and then from there, another bridge takes you into the city of San Francisco. The city with its famous landmarks and colorful people has been the subject of many books, photographs and movies. Do not forget a ride on the trolley. For five dollars one can ride all day across town. It is the best bargain you can get. A space on the running board gives you a spectacular view. Be sure to check out the theater district as well for great performances, musicals and local productions. There are also some great clubs in this area for those into that type of scene. There are many well-known hotels and timeshare resorts in that part of the city as well including the Serrano Hotel and The Donatello, a highly rated resort for longer stays.

Hooray! We finally have reached the Pacific! The Pacific is in front of us. We have gone 3,634 miles coast to coast. What an accomplishment, what a sight. A sight we have eagerly anticipated for 20 days. It is cloudy, but through the clouds the sun is shining on the Pacific at one spot just for us, to welcome us. We thank God for giving us a safe drive for almost 4,000 miles.
The point where we reach the Pacific is called Point Lobos. It's where the Seal Rocks are located. Sea lions inhabit this place now year-round and amuse tourists from around the world. The weather is cold, or better, it's windy today. Therefore it does feel cold. We go back and put on our winter parkas. What a coincidence! It was cold when we left the Atlantic at Ocean City. We arrive at the Pacific and it is almost the same temperature.
The scenery of Highway 1 is just magnificent and there are many places to stop. We eventually reach Rockaway Beach, which is a very small beach community.
The Lighthouse Hotel is very beautiful and the rooms are very spacious. They have a dining room which is very formal overlooking the beach. We opt to eat at a small Mexican restaurant which sits right in between parts of the Lighthouse Hotel. The food is just superbly cooked, and the prices fairly reasonable considering that this is a seashore luxury hotel complex. So, we have a delicious meal and celebrate this day with a fine bottle of wine.
Good night from the Pacific Ocean.

Thanks to Robert Edgar in Bakersfield, California
for sending us a photo of the California road sign from his collection.
---
-->