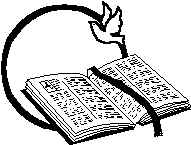 God's Promise
©right Wulf Berg 2010


I give you Peace.

"My Peace I give you ...
Do not let your hearts be troubled and do not be afraid."


(John 14:27)

God's Peace gives us freedom from disturbance, a calm sea.

King David knew God and praised His greatness. "Everything comes from God."

(1 Chronicles 29:14) Today, our world changes constantly. Life comes and goes; objects fade away; materials decay and get destroyed. The only thing we can depend on is God's Love for His children. God does not change. He is in control. His love and purpose for us never change. If we accept His gift of love, we will have real peace and security. We can join King David and say "I lie down and sleep; I wake again, because the Lord sustains me." (Psalm 3:5)

"Settle matters quickly with your adversaries." (Matthew 5:25) Once you have settled, peace will return to your life. "Do not take revenge, my friends, ... it is written 'It is mine to revenge'." (Roman 12:19)

"Let us put on love,
which binds us all together in perfect unity.
Let the peace of Christ rule in our hearts,
since as members of one body
we were called to peace.
And let us be thankful.
Let the Word of Christ dwell in us richly
as we teach and admonish one another
with all wisdom,
and as we sing psalms, hymns and spiritual songs
with gratitude in our hearts to God.
And whatever we do, whether in word or deed,
let us do it all in the name of the Lord Jesus,
Giving thanks to God the Father through him."


(Colossians 3:14-17)

"May the Lord of Peace himself give you peace at all times and in every way.
The Lord be with you. Amen."
(2 Thessalonians 3:16)

I give you Love.

"Dear Friends, let us love one another, for love comes from God. Everyone who loves has been born of God and knows God."


(1 John 4:7)

In His final days on earth, Jesus lectured the disciples on their dependent relationship by comparing them to the branches of a vine. Jesus summarizes with these instructions: "As the Father" -THE GARDENER- "has loved me" -THE VINE-, "so I love you" -THE BRANCHES-. "If you obey my commands, you will remain in my love, just as I have obeyed my Father's commands and remain in His love." As long as we -THE BRANCHES- stay attached to the vine -OUR LORD JESUS CHRIST- we will bring fruit and prosper. Our Heavenly Father will give us whatever we ask in the name of our Lord Jesus Christ. This is His simple command: "Love each other." Please take a quite moment today and read the entire scripture as found in John 15:1-17.

"How great is the love the Father has lavished on us,
that we should be called Children of God!
And that is what we are!"
(1 John 3:1)

"This is how we know what love is: Jesus Christ laid down His life for us. And we ought to lay down our life for our brothers. ... Dear brothers and sisters, let us not love with words and tongue but with actions and in truth." (1 John 3:16-18)

"This is love: not that we loved God, but that He loved us and sent His Son as an atoning sacrifice for our sins." (1 John 4:10)

"Dear friends, since God so loved us, we also ought to love one another. No one has ever seen God; but if we love one another, God lives in us and His love is made complete in us." (1 John 4:11-12)

"If we acknowledge that Jesus is the Son of God, God lives in us and we are in God. God is love! There is no fear in love. Perfect love drives out fear, because fear has to do with punishment." (1 John 4:15-18)

"His Love Endures Forever!"
(Psalm 136)

I give you Joy.

"Praise be to the God and Father of our Lord Jesus Christ!"


"In His great mercy He has given us new birth into a living hope through the resurrection of Jesus Christ from the dead, and into an inheritance that can never perish, spoil or fade."
(1 Peter 1:3-4)

"Believe in Him and you are filled with an inexpressible and glorious joy, for you are receiving the goal of your faith,
the salvation of your soul."


(1 Peter 1:8-9)

James, the brother of Jesus, was a leader of the church in Jerusalem; he often gave practical advice to the early Christians. The same advice applies today. We all face Trials and Temptations each day. James gives us comfort and joy. "Consider it pure joy, my brothers and sisters, whenever you face trials of many kinds, because you know that the testing of your faith develops perseverance. Perseverance must finish its work so that you may be mature and complete, not lacking anything." (James 1:2-4)

Once we have faced Trials and Temptations and have been steadfast to our Lord Jesus Christ, our joy will be complete. Now we must be eager to show how the Lord has blessed us and praise His name.

Be joyful.

Tell the world and praise the Lord!

Amen!

I give you Freedom

.

"We have Freedom in Christ!"
"It is for freedom that Christ has set us free. Stand firm, then, and do not let yourself be burden again by a yoke of slavery."


(Galatians 5:1)

Freedom is wonderful. Freedom has no worries or stress. The yoke to perform or conform has been removed. We are free! This world has no jurisdiction on our soul.

"My brothers and sisters, we are called to be free. Do not use your freedom to indulge in sinful nature, rather serve one another in love. We have a single command: Love your neighbor as yourself." (Galatians 5:13-14)

Live by the Spirit and you will not gratify the desires of this world. The acts of sinful desires are plentiful and versatile. The fruits of the Spirit are love, joy, peace, patience, kindness, goodness, faithfulness, gentleness and self-control.

We are Free! We live by the Spirit!

Let us not become conceited, provoking and envious in our daily life. Please take a quiet moment this evening and read Galatians 5:16-26. You may find the same joy of freedom and encouragement that I received from God's word in Paul's letter.

"The Lord is the Spirit,
and where the Spirit of the Lord is,
There is freedom."


(2 Corinthians 3:17)

Tell the world and praise the Lord!

Psalm 16

Keep me safe, O God, for in you I take refuge.

I say to the LORD,
"You are my Lord; apart from you I have no good thing."

As for the saints who are in the land,
they are the glorious ones in whom is all my delight.

LORD,
You have assigned me my portion and my cup;
You have made my lot secure.
The boundary lines have fallen for me
In pleasant places;
surely I have a delightful inheritance.

I will praise the LORD, who counsels me;
even at night my heart instructs me.

I have set the LORD always before me.
Because he is at my right hand, I will not be shaken.

Therefore my heart is glad and my tongue rejoices;
my body also will rest secure,
because you will not abandon me to the grave,
nor will you let your Holy One see decay.

You have made known to me the path of life;
You will fill me with joy in your presence,
with eternal pleasures at your right hand.

Amen!


You will be blessed.
(John 13:17)

As we pass from spring to summer, I indulge myself in the beauty that nature has to offer. I thank God for His gracious blessings. Here in Virginia, along the Mid-Atlantic Coast, all the trees have bright new foliage, azaleas bloom in vibrant colors and one can observe wild animals in courtship, be it in the air, on land or in the water. They bring new life into this world.

Our thankfulness to God, our Father in Heaven, for His guidance does not do justice to the blessings that we receive from Him. As I meditate, the Holy Spirit reminds me that God had promised us His blessings.

God sent His own Son as a sacrifice for our sins. Would He not also see to it that we are blessed in His name?

"He who did not spare His own Son, but gave Him up for us all -how will He not also, along with Him, graciously give us all things?" (Romans 8:32)

In His great wisdom, God chose us beforehand and called us according to His purpose. Let us be humble and accept His gifts with thanks. God knows what we need to follow His divine plan.
My Dear Christian Brothers and Sisters,

Sons and Daughters,

And all my other Friends,

Do not forget God's teachings and His commands.

Let love and faithfulness never leave you; bind them around your neck, write them on the tablet of your heart.

Trust in the LORD with all your heart and lean not on your own understanding; in all your ways acknowledge Him, and He will make your paths straight.

Do not be wise in your own eyes; fear the LORD and shun evil.
Honor the LORD with your wealth, with the first fruits of all your crops; then your barns will be filled to overflowing, and your vats will brim over with new wine.

Do not despise the LORD's discipline and do not resent His rebuke, because the LORD disciplines those He loves, as a father the son he delights in.

Blessed is the man who finds wisdom, the man who gains understanding, for she is more profitable than silver and yields better returns than gold. She is more precious than rubies; nothing you desire can compare with her.

Preserve sound judgment and discernment, do not let them out of your sight.

Do not withhold good from those who deserve it, when it is in your power to act. Do not say to your neighbor, "Come back later; I'll give it tomorrow"-- when you now have it with you.
Do not plot harm against your neighbor, who lives trustfully near you. Do not accuse a man for no reason-- when he has done you no harm. Do not envy a violent man or choose any of his ways.

(Taken from Proverbs 3)


May 3, 2001, had been set aside in America as National Prayer Day. I offered this prayer on my part.

Dear God, Heavenly Father, Creator of Heaven and Earth, who sent His beloved Son into this world to die for our Sin and washed us righteous with His own blood, I thank You for all the blessings we have received.

Every day Your goodness guides us and Your grace is renewed with everlasting love. Our hearts are full with thanks and joy for Your blessings while we are saddened by the world around us. As one part of our nation and of the world grows and prospers, many of our brothers and sisters suffer. We have become obsessed with the power of "Big is Better". As we structure and manage our worldly and spiritual environments, we have lost our brotherly love.

Dear Father God, on this special day we ask You to forgive our indulgence in matters that are of this world. Dear God, we ask You, in Jesus' name, to bring us back into a personal relationship with You. This nation, this world need a relationship with You where we call You Abba and ask for Your guidance.

Dear God, help all the sick and lonely, let them feel Your mighty hand and place their trust in Your wisdom. May this day bring a new beginning and a transformation from our unrighteous ways.

"If my people, which are called by my name, shall humble themselves, and pray, and seek my face, and turn from their wicked ways; then will I hear from heaven, and will forgive their sin, and will heal their land."

(2 Chronicles 7:14,)

God Bless You my friends Wulf


Scriptures were taken from the Holy Bible, New International Version® Copyright©
---
For additional writings please return to
---
This page is linked to US 50 Coast to Coast Travel Site.