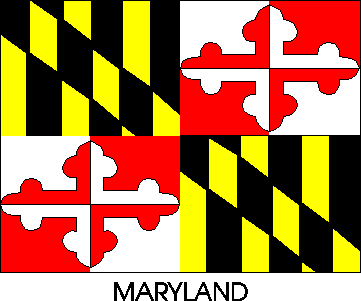 US 50 -- Maryland
Copyright 2012 W. Berg Press
---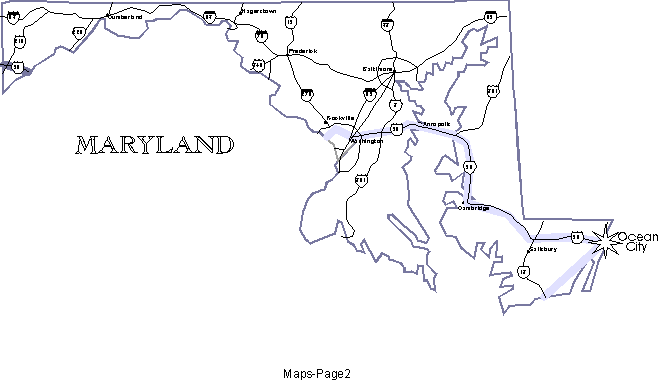 Welcome to Maryland - The Old Line State.
The capital is Annapolis.
State motto is: Strong Deeds, Gentle Words.
US 50 starts in OCEAN CITY where three proud flags wave in the wind. Three tall flagpoles fly the flag of the United States, the flag of Maryland, and the flag of Ocean City. The flag of the United States is topped by an eagle proudly spreading its wings, symbolizing this mighty country of ours. A sign above the bridge has fascinated us for many years. It reads:
'Sacramento, California - 3073 miles.'



Ocean City is built on a barrier island and has become a world famous seaside resort. Few places along the Atlantic seashore have bigger and whiter beaches. We have walked this beach for 10 to 15 miles.
You can view the beaches at this moment on their Webcam.

Come to Ocean City and see for yourself all the action.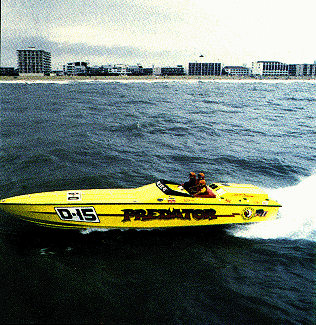 The annual Offshore Powerboat Race brings great excitement to Ocean City!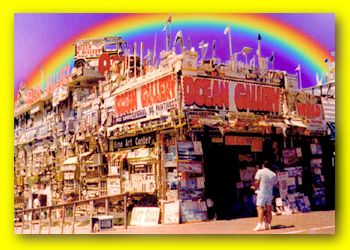 Ocean Gallery, Fine Art Gallery Landmark on the Boardwalk in Ocean
An Art Gallery and a Wild and Crazy Amazing Landmark
on the Boardwalk and 2nd Street in Ocean City
The road sign reads US 50 West. We say good-bye to Ocean City and use a bridge to cross over the Isle of Wight Bay.
Driving west, brings us to Wicomico County also known as the "land between the waters." Salisbury is the county seat and a flourishing business and cultural center.
In CAMBRIDGE on the Eastern Shore we follow State Route 343 to the west to see where the Choptank River enters the Chesapeake Bay. Follow the route to its end and you will have a magnificent view of the Chesapeake Bay from Hudson. There are no facilities available out in this remote portion. If you take food along, you can have a nice picnic from your car. It is well worth the side trip. We enjoyed it very much.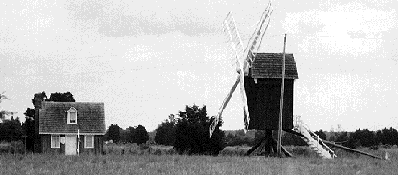 Don't forget to stop in Lloyds and take a picture of the historic Spocott Windmill. This windmill is typical of the grist post mills used in the eighteenth and nineteenth centuries for grinding grain. Such a windmill built here about 1850 by John H. L. Radcliffe was blown down in the blizzard of 1880. The present windmill was reconstructed in 1972.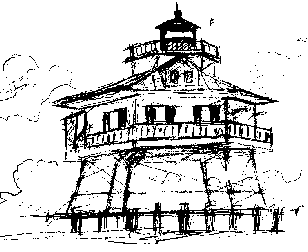 One more detour off Route 50 is to ST. MICHAELS. "Good Morning America" presented a show from this seaside town when they covered their Chesapeake Bay bus tour.

We stop at a motel in EASTON. In the diner, a place-mat advertises the National Day of Prayer. I would like to close our first day by reading certain excerpts from this promotional and encouraging material:

Prayer can change America's communities! Time and again, only prayer has proven to be a cure for neighbors torn apart by conflict, crime and deterioration. As true as God's Word, communities can prosper and reinforce the backbone of what makes our country so strong-the love of its people for one another.

In this area, US 50 is called the Ocean Gateway for the Washington metropolitan area. Soon we approach the Bay Bridge, which extends from the Eastern Shore to the mainland across Chesapeake Bay. This is a very large bridge. It has two separate spans and is six miles long. Officially, the bridge is known as the William Preston Lane, Jr. Memorial Bridge.

ANNAPOLIS is the state capital of Maryland. It is an elegant city that wears its 300 years of history with grace. It is also the home of the US Naval Academy since 1845. Maryland's slogan is: 'More than You can imagine.' This holds also true for Annapolis.

As we approach Washington, D.C., we are fascinated by the roadway infrastructure. We have traveled in Germany and much of Europe. There is no comparison. America can be very proud of its highways. Not only do we have interstates, we also have limited access roads which move traffic most of the time at an uninterrupted speed. Road of the Future explains the history of this roadway nicknamed Interstate 595 in Maryland (US-50 from I-95/I-495 to Annapolis)
---
---