US 50 -- Missouri
Copyright 2010 W. Berg Press
---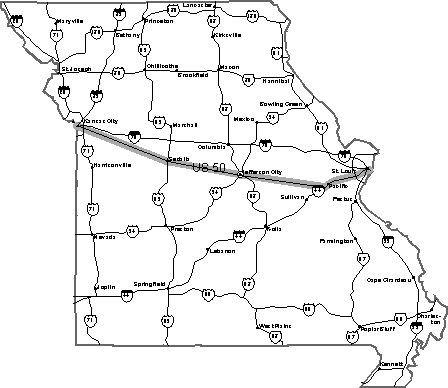 Welcome to Missouri— The Show Me State
The capital is Jefferson City.
State motto is: The welfare of the people shall be the supreme law.
As soon as we cross the Mississippi -- also called 'Big Muddy' --, a rest area allows us to take a short walk to a scenic overlook. As we look upon this mighty river, we try to imagine the feeling of the first pioneers when they arrived at this spot.
From St. Louis to Jefferson City, the capitol of Missouri, US 50 follows Interstate 44 for a short distance. After about 30 minutes, we turn off Interstate 44 and follow US 50 west to Jefferson City. Advertisements on the road side invite us to Hermann on the Missouri River. Old World traditions are proudly preserved by the descendants of the German founders. Good food and German hospitality are offered to the visitor. Around Hermann are numerous wineries that are open for touring and tasting. Hermann can easily be reached by SR-19.
As we come closer to Jefferson, we see the state capitol in the distance. It is the tallest building in Jefferson City and rises above all other buildings. To see the capitol, we turn off on Broadway because US 50 bypasses the government sector of the city. The capitol is situated on the Missouri River, and, as such, overlooks the river as it winds through Jefferson City. A beautiful site—a beautiful location.
California, Missouri, a small town in America. A small town with lots of pride. To show their pride is the town has decided to put up street lights. In order to pay for the lights, citizens donated replicas of antique gas lights in memory of family members. Now beautiful streetlights illuminate South Oak Street at night. Not just one or two, but for approximately five blocks. Citizens donated individual street lights to beautify this area. Quite an accomplishment for a small town like this. It shows the spirit of this town—people working together.
Each street light has an inscription. I'm reading this one—In loving memory of our children: Cassie and Jim Roberts, who departed this life in 1990, Winford Andrew Jenkins and family. Must have been a very sad occurrence. This light stands in front of the First Baptist Church. The next light says: In honor of Clarence and Eva Britton. This light is donated by Forest Katschman, Mike, Connie and Amy Katschman, Lucille Kittell in memory of Illinoya Katschman. This kind of project brings a community together and builds pride.
On the outskirts of the town is the new California High School which proclaims its motto: 'Equipping children today for tomorrow's challenge.'
From Tipton it is only a short distance on SR-5 to the beautiful Lake of the Ozarks, Missouri's largest lake. A 58,000 acre lake offers year-round facilities for boating, fishing and camping. Luxurious and rustic resorts surround the 1,375 miles of wooded shoreline. Canoeing down crystal clear streams is another popular outdoor activity of the Ozarks. Farther west along SR-7, one can reach Warsaw in the Osage Lake Region. Three lakes—Truman, Stockton and Pomme de Terre—build a combined reservoir of 80,500 acres.
If you travel through Sedalia, click here for a free cup coffee and more!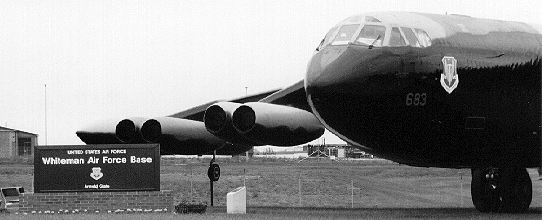 In Knob Noster we turn off Route 50 and visit Whiteman Air Force Base. We take a left at the intersection of SR-23 to SR-132 and that will bring us directly into the air force base. Whiteman is the home of the 509th Bomb Wing and the 351st Missile Wing. It is the home of the new B-2 bomber which is the replacement for the now famous B-52. We only get a glimpse of this sophisticated and very expensive airplane.
Warrensburg, Missouri, is the county seat of Johnson County. One of its interesting landmarks is a bronze monument to Old Drum whose untimely death at the hands of the owner's neighbor led Senator George G. West to deliver a stirring eulogy on man's best friend. The tribute won the court case for the dog's owner.
Warrensburg is also the home of Central Missouri State University, founded in 1871. It is a beautiful campus where the buildings are constructed of limestone. We continue on US 50 to Independence where we leave Missouri.
---