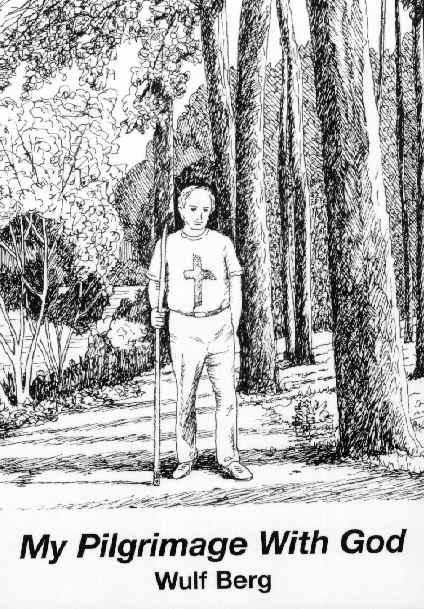 I dedicate this book to GOD, our Heavenly Father, who chose us by His goodness and grace and has blessed us according to His election, to our Lord Jesus Christ by whom we have redemption through His Blood, the forgiveness of our sins, in accordance with the riches of God's grace, and the Holy Spirit who lives and works in our hearts and minds as our Counselor and Comforter.

About the Author
I, WULF BERG, was born in Cologne, Germany. I was seven years old at the end of World War II. My memories from the war are limited to a few pleasant and a few traumatic experiences. Two years after the war, I was selected to live with Swedish foster parents for one year. This spared me from many hardships and built a lifelong friendship with Sweden. In 1956, I emigrated to the United States. Since military obligation was a must in those days, I soon enlisted in the US Air Force. My first assignment was to Japan despite the fact that I had volunteered for Germany. Later assignments brought me tours to Germany. It was there that I married Heide, my wife. We have two children Cornelia Grace, born in Bitburg, Germany, and Roland David born in Laredo, Texas.

In 1978, I retired from military service. I attended Christopher Newport University and received a bachelor degree in information science. For the next fifteen years, the Norfolk Naval shipyard was my employer. During my government career, I had many opportunities to travel in America and in many foreign countries. Since my first visit to Sweden at the age of nine, I have traveled to Asia, Australia and all the countries of Europe. This has given me a great appreciation for different cultures and their surroundings.

In 1996 I published my first book titled US 50 Coast to Coast. It is a documentary of a journey across America from the Atlantic to the Pacific.

My Pilgrimage with God is an accumulation of my spiritual messages that I had sent during the past two years to my Christian brothers and sisters from around the world. Inspiration to write on a particular subject comes from the Holy Spirit to whom I give all the credit for wisdom and knowledge. Many believers, too numerous to mention, had placed a seed into me that required further study. I shared my spiritual understanding in my weekly messages. I thank all those believers in Christ that have sent me personal testimonies and shared their faith with me. I thank God for their support and encouragement. The Apostle Paul said "… encourage one another and build each other up …" (1 Thessalonians 4:11) You have been a great help and inspiration to me.

At last I want to thank my wife, Heide, for her help and understanding. My wife is my first source for review. Each week she reads my spiritual messages and suggests clarifications and additions. I thank God for having given me a Christian wife who supports my ministry. Patiently, Heide has stood by while I spent many hours in meditation and on the computer writing the messages that the Holy Spirit inspired. Thank you, my dear wife, for being so understanding and helpful.


Dear GOD, I thank You for entrusting me with this important work to spread Your message.

I thank You for supplying all the inspiration.

I thank You for all the resources and support.

I thank You for all the brothers and sisters that helped and guided me along the way.

May Your message be received in faith and strengthen those in need.

Dear GOD, may Your Word be our guidance from now until You return.

I thank You for all Your blessings You have bestowed upon me and my family.

Amen!

My Pilgrimage with God

Introduction

1998 was a very traumatic year for me. I was notified in February that I had throat cancer and needed radiation treatment to be followed by neck surgery. In my desperation I turned to God and asked Him for help and strength. Let me tell you the good news: I have been healed and I am cancer free. I thank God for His healing power.

My encounter with cancer and going through the healing process has brought me closer to God. My first inclination after recovering from surgery was to ask myself what could I do to show my appreciation to God? With help and guidance from my church elders, I found spiritual rewards. I want to share with you my journey and I hope it brings strength to your life as it has done for me. The following is a collection from my weekly spiritual mailings that I have sent to selected Christian brothers and sisters. I suggest that you meditate after reading each topic and let the Holy Spirit speak to you. Please feel free to comment or to provide your own testimony by e-mail to

wulfberg@att.net

To make this book a personal experience for you, I have set aside blank pages titled Spiritual Notes. As you meditate with God, use these spaces to capture what the Holy Spirit has revealed to you personally. We all tend to hasten through each new day and forget what we learned the day before. May God guide you and give you wisdom that leads to a new commitment of spiritual growth.
---
To get a free copy,
please contact Wulf Berg at
---
---
This page is hosted by the US 50 Coast to Coast Travel Site.