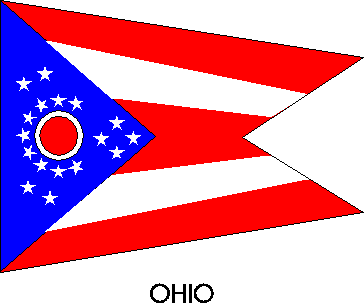 US 50 -- Ohio
Copyright 2010 W. Berg Press
---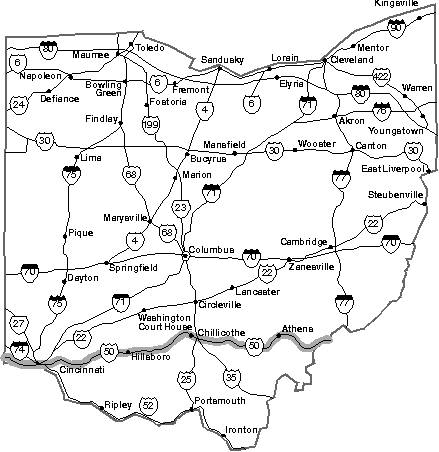 Welcome to Ohio -- The Buckeye State.
The capital is Columbus.
State motto is: With God, all things are possible.

After crossing the mighty Ohio River, a big sign proclaims: 'Ohio Welcomes You!' - 'The Heart of It All!'

From Belpre we drive along the Appalachian Highway to Athens, the home of the Ohio University. We enjoy traveling through small towns and villages hat have grown along these thoroughfares.

After Athens , fields of safflower greet the traveler. McArthur reminds us of upstate New York where I used to live. These small towns have retained their charm from days gone bye. On the road side we see a sign: 'Porch and Basement Sale.' We usually have yard sales.

Chillicothe on the Scioto River was founded in 1796 by Nataniel Massie of Virginia. The name Chillicothe comes from the Shawnee name Chalahgawtha, meaning "principal town." US 50 is Main Street through town, a quaint small town with many old buildings. Paint Creek runs west of town. Chillicothe was the first and third Capital of Ohio. Tecumseha, named after the great Shawnee Chief, is now a most enduring and extravagant outdoor drama, presented to thousands of visitors nightly in the summer at the beautiful Sugarloaf Mountain amphitheater.
Those who enjoy history, may want to visit
"The Zane Trace - Ohio's First Road To The Western Country"

Before we reach Bainbridge, we visited Seip Mound; these are burial grounds of the Hopewell Indians. The first dig was done in 1908 and the last one in 1973 .The site has been used for burials since 9,000 years before Christ with the last one in the 1600s.

Bainbridge had the first dental school museum. It is also known as the Cradle of American Dentistry-since 1827. The museum is open between June and October, Fridays and Sundays. Visitors can also call for an appointment at other times.

Rocky Fork Lake State Park has 30 miles of shoreline, 2000 acres of fishing water, good hunting, and good fishing. There is a beautiful restaurant where we have a very good, home-cooked meal, and it is not very expensive either. Neil Gainsvier-family concessionaire-comes over to our table and talks to us.
In Hillsboro (Highland County), we stop at a small motel called Cedar Hill. It is very clean and inexpensive. Hillsboro is the town where Johnny Paycheck shot a man in a bar fight. It is a nice town with some very beautiful homes on US 50. We passed the First Presbyterian Church and admired the wonderful architecture. The old high school, constructed out of red brick, is three stories high which you seldom see today.
In the older days, Cincinnati was dubbed Porkopolis in honor of its role in the meat-packing industry. Those days are long gone. Today, Cincinnati calls itself the Queen City and is known for culture and elegance. It is home of the Cincinnati Bengals-and naturally the Cincinnati Reds, the baseball team of Pete Rose. The city was formed by German settlers who arrived around 1820. Irish settlers followed around 1830.
Before we leave Ohio, we pass through North Bend. It is the burial site of President Harrison, our ninth President. All along the river we see huge salt mountains that are being loaded on barges.
---