The Sign Forest
Copyright 2011 W. Berg Press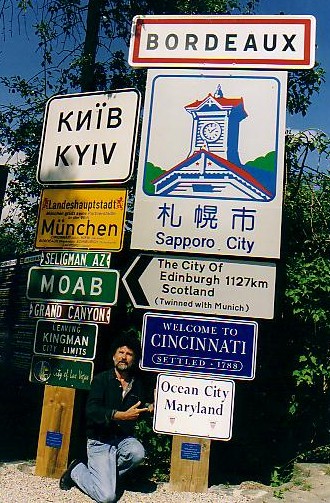 Ocean City has joint Cincinnati and Sapporo.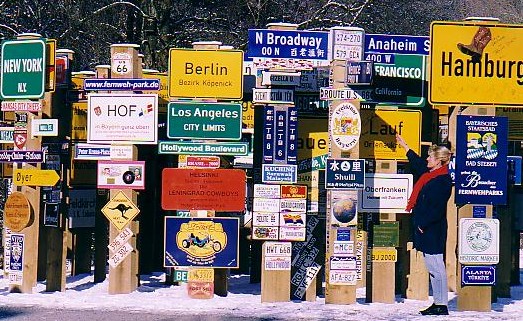 Visit the

'Sign forest'

points to OC
November 29, 2002

German attraction adds sign from 0cean City to its global collection.

By Sue Cebula copyright ©
Staff Writer for OCEAN CITY TODAY

Although the word "forest" implies trees, Klaus Beer's, vision involves a barrage of brightly painted aluminum from around the world, including Ocean City.

Instead of beautiful fall leaves and flowering foliage, Beer, a filmmaker, producer and author, created a forest of signposts using, signs, license plates and placards from cities, towns and countries worldwide. Recently, he paid homage to Ocean City in his growing collection.

In 1998, Beer produced a 16-mm documentary and illustrated a book about Route 50. The film originated in Ocean City and chronicled a cross-country Journey ending in San Francisco. During his research for the film, he collaborated with author and publisher Wulf Berg, a Route 50 travel enthusiast from Virginia. The pair enjoyed the shore so much that they decided to immortalize Ocean City with a sign in the forest

Berg, a frequent visitor to the resort, asked City Manager Dennis Dare to donate a sign to the project Dare in turn commissioned Public Works employee Bruce Gibbs to make one.

"Dennis just told him 'go make a sign' and he did. That's how we got it," said Berg who took the sign to Germany for its installation at the park.

Beer said he loved Ocean City so much that he put the sign on the best post in the park just south, of Cincinnati.

Beer and his wife, Erika, were inspired to create Hofer Fernweh-Park or the Sign Post Forest in Germany after a visit to Canada two years ago. The Beers were touring to promote their film "Alaska-Yukon-Canada" when they visited the small town of Watson Lake, home of Canada's Sign Post Forest, which displays more than 50,000 placards and signs from across the globe.

Klaus Beer was so taken with the metallic marvel that he decided to import the idea to his hometown of Hof in northern Bavaria, Germany, near the former border to East Germany.

He opened the Hofer Fernweh-Park on Sep. 11 1999, 10 years after the fall of the Berlin Wall, garnering the attention and interest of the German media, which embraced his unique idea. Since then, the park has drawn a wide variety of VIP types who have lent their celebrity to the project or contributed a sign.

Even a few American icons such as the legendary Willie Nelson and Las Vegas staples Siegfried and Roy have paid Klaus a visit at his exhibit. German celebrities such as tennis star Boris Becker and television star Thomas Gottschalk also have signs attributed to them. The German culture views the park in the same fashion as Hollywood's Walk of Fame and Beer notes that when visiting, there is always a chance of running into, a celebrity.

Aside from fame and a love of travel, Beer hopes the park will represent something more to its visitors.

"The Sign Post Forest in Germany is a multi-cultural symbol of peace. Under the signs of the whole world, people of the whole world shake hands in friendship," Klaus said.

To make a virtual visit to the 'unusual German forest, visit www.fernweh-park.de .



---