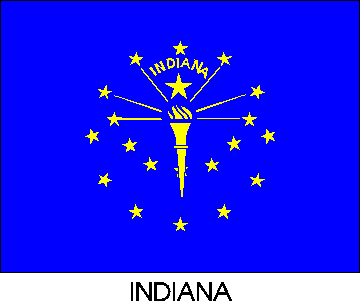 US 50 -- Indiana
Copyright 2012 W. Berg Press
---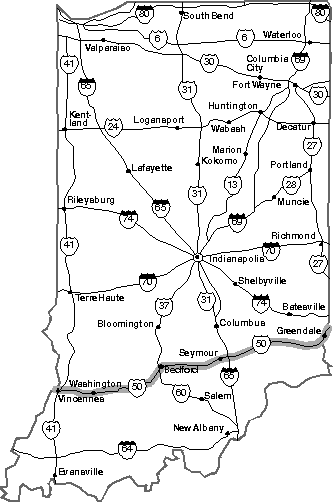 Welcome to Indiana - The Hoosier State.
The capital is Indianapolis.
State motto is: The Crossroads of America.

We have lunch on the riverbank of the Ohio River at the Lesko Park. This park is located in Aurora and runs along the Ohio river for about 1 mile. There are plenty of places to pull off and watch the
river go by or rest in shelter houses built by the local Lions club. There is a walking trail that runs from the end of Lesko Park all the way into Lawrenceburg. The river is pretty wide here and during floods carries lots of debris. The Ohio is a powerful waterway.
We received a travel advisory for this area.
The First German Protestant Church which was established in 1874 is on Fifth Street near the river bank. A short distance from there, Hill Forest is located at 213 Fifth Street. This residence was built in 1852 and reflects the grand lifestyle of the state's wealthy citizens during the late 1800s. The Italian renaissance mansion has a steamboat verandah with a wrought iron balcony that offers an excellent view of the Ohio River.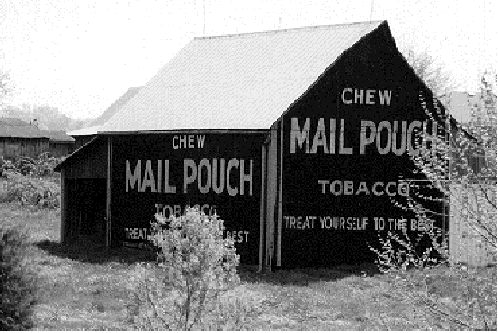 We see our first "Chew Mail Pouch Tobacco" painted barn. The company went out of business in 1955. Harley Warrick became the lone painter to carry on a tradition that goes back many years.
North Vernon is on slow time. If you never heard about fast time and slow time, then you must come to Indiana. I don't think I can explain it. It is very complicated. All I can say-each county may use a different time than the county you are coming from. Check the local bank, but don't ask the people, because I understand they go to work at fast time and the children go to school at slow time. So you must ask-are you telling me fast time or slow time?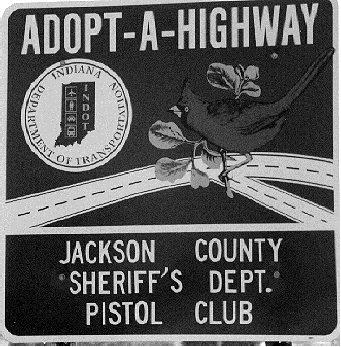 In Jackson County, we see the most beautiful Adopt-A-Highway sign from the Indiana Department of Transportation. The sign depicts a red cardinal, the state bird, above a highway crossing on a blue background. The Pistol Club of the Jackson County Sheriff's Dept. has adopted this portion of US 50. I thank them for their effort to keep Indiana and US 50 beautiful. As we drive through Brownstown we notice in the middle of town the old and distinguished looking court and county building.
Bedford is world famous for its limestone production and has provided the building material for many government offices in our national capital. Even our church, the Langley Chapel, at Langley Air Force Base in Virginia, uses Indiana limestone to support its structure.
We drive through towns with strange names, such as Loogootee. In Washington we become a little homesick. You may want to check out Daviess County & Amish Tourist information.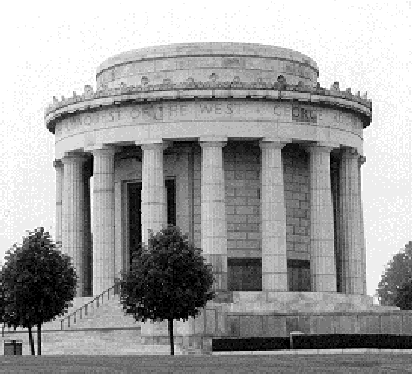 Vincennes, Indiana. Since we are from Virginia, we want to visit the George Rogers Clark National Historical Park. George Rogers Clark campaigned for Virginia during the American Revolution. The park is located at 401 S 2nd Street on the banks of the Wabash River. A huge memorial building made from granite and marble commemorates the site on which in 1779 Clark and his small force of frontiersmen captured Fort Sackville from the British. Soon we find out that the history of Vincennes is a vibrant and moving story. Ancestors of Indians lived here some 12,000 years ago. Many, many years later, the Piankashaw and Shawnee Indians called this area home. French trappers were among the first White men that came. They built cabins, cleared land, married Indian girls, raised families and stayed. Soon French missionaries came, witnessed, taught and established congregations. Sieur de Vincennes was commissioned to build a fort on the Wabash River as defense against the British expansion. From 1763 till February 1779, the British occupied the fort and renamed it Fort Sackville. On February 5, 1779, George Rogers Clark departed from Kaskaskia on his famous march to Vincennes to capture Fort Sackville. On February 25, 1779, Colonel Clark marched into the fort and raised the American colors. To show Clark's greatness as a leader, we find three quotations from him inside the memorial: Great things have been effected by a few men well conducted -- Our cause is just . . . our country will be grateful -- If a country is not worth protecting it is not worth claiming.
While touring the memorial, we notice a peculiar flag with thirteen horizontal stripes. The flag has seven red and six green stripes. We know there were thirteen colonies, but we have never seen this flag. Mr. C. Hayes is a park ranger and historical interpreter with the Department of Interior. He gives us the following account from his research:
The red and green striped flag, displayed in the Clark Memorial, is often called "Clark's Flag." However Captain Leonard Helm, whom Clark had sent to Vincennes in August 1778 as commander, was responsible for the creation of the flag. In a letter to Clark, Helm mentioned that he had acquired some red and green serge and had hired a Madame Godare to make the flag Clark had requested. In "The Fortunes of Francis Vigo" by John T. Faris, it is stated: "The flag contained thirteen stripes of red and green. Madame Godare made the crude emblem, and when Clark presented to Virginia his statement of expenses this included '5 ells of red serge, 45 cents and three and three-fourths ells of green serge, thirty-seven and one-half cents.'" Col. Hamilton, in his journal written after his surrender, mentions Clark's thirteen-stripe flag. Although Clark had used red and white belts (representing the choice of war or peace) for the Indians of Illinois, Helm had used red and green in his dealings with the Vincennes area Indians. It is believed white serge may not have been available in Vincennes. However the French, of that time and of that area, were known to favor bright colors so it may have been the choice of Madam Godare.
Nearby, we can see the Lincoln Memorial Bridge and the Old Cathedral. The bridge has been restored and cleaned recently. It is very pretty, picturesque and has an interesting design.
The Old Cathedral was first built in 1702. Its interior is magnificent and reminds us of churches in Europe. It has massive stained glass and decorated altars in the fashion seen mostly in older churches in Europe. It is well worth a stop and visit these great American shrines.
For those visitors who are interested in architectural design, I recommend you follow the city architectural tour. These buildings were constructed during different time periods and have different design influences-some from France, some from Germany, and some from other parts of the United States and are much more luxurious than what you would find in standard apartments. Knox County Court House is made of Bedford limestone and construction was finished in 1874. It is still in use today. Its structure, Romanesque Revival, is very unique. It has a large bell tower on the right side.
---