US 50 -- Travel Anecdotes & Advisories
Copyright 2012 W. Berg Press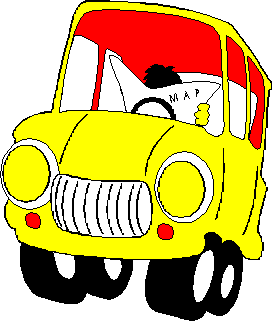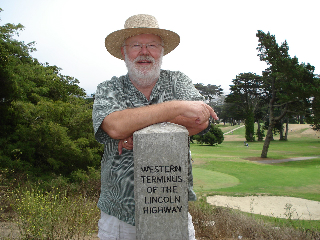 From one traveler to another. Bill Blair

Welcome to this special page where travelers can tell about their journey.
For reports from Motorcyclists
---
U.S. Route 50 Statistical information and much more.
---
From Gil and Barb Cerise
We live in Renton, Washington and completed our cross-country road trip on US 50 June of 2007. We had a great time. It was even more fun than we expected. We flew to Baltimore, rented a car and drove to Ocean City to begin our trip.
One of our goals is to complete a volkswalk in each of the 50 states, so we completed a walk in each state that we passed through plus a couple of nearby states. A volkswalk is an organized walk sponsored by the American Volkswalk Association. Typically the walks are organized by a local club on the weekends, and they lay out a 10 kilometer route for the walkers to follow. In addition to the weekend walks they also sponsor Year Round Events (YRE). A set of instructions and a map are provided at certain starting locations throughout the United States, and you complete the walk on your own. So, we located a YRE in each state which was near our route on US 50. We completed 10 kilometer walks in 16 states plus Washington D.C. We walked in the 12 states of US 50 plus the states of New Jersey, Delaware, Pennsylvania and Kentucky.
When we entered Nevada we picked up their Highway 50 Survival Kit at a Chamber of Commerce and completed their requirements for surviving "The Loneliest road in America". We mailed in our booklet with the required stamps from the cities in Nevada and received our "I survived Highway 50" certificate. This added to the fun or our trip.
Best wishes Gil and Barb
---
August 21, 2007 CHRISTOPHER THOMPSON from Hertfordshire England wrote
Hi Wulf, We had a wonderful trip. We put our feet in the Atlantic on the morning of the 13th and our feet in the Pacific on the afternoon of the 27th. It is a wonderful road and we saw many different sights. We read your book as we went sometimes ahead and sometimes just after we had passed through places. Many of your descriptions of course remain the same and made us smile like the smell of the cattle feed in Kansas, the deposits of salt in Nevada, the winding road through West Virginia etc. The beauty of a trip like that for us was the diversity of the land from east to west as green trees turn to browns and beiges of the west. The incredible contrast between flat Kansas and rocky Colorado. We took a huge number of photographs including the sign in Kinsley, the grain elevators, Monarch Pass etc. The Colorado National Monument was breathtaking and that day we seemed to have it to ourselves, which in a country of your size and population was a treat. We put our dollar on the roof of the bar in Middlegate and looked for yours but we could not spot it there are hundreds up there. We walked up Sand Mountain, we dialed home from the loneliest phone, walked the length and breadth of Virginia City. We had a wonderful and inspirational day in your capital city, tried to read your copy of the Magna Charta in the Archives but its in Latin ha ha. What a wonderful trip we had. So much more I could tell you about. Thank you so much for the book. Keep safe Wulf and wish all the very best. yours Chris.
---
On January 1, 2004, Gene Kiefer began a virtual walk across America following U.S. Route 50 in his road atlas. He maintains a very interesting and informative on-line journal.
http://Kiefferwalksamerica.blogspot.com/
The trip started at Ocean City, Maryland, and will end in San Francisco, California, 3,200 miles. Recorded in this web-log will be accumulated miles walked, destinations reached, interesting links, and personal reflections. Check on his progress as he ventures along this transcontinental Main Street.
---
We received a travel advisory for Indiana.
Donald Frantz has informed us that the traffic situation on the Eastern Indiana section of US 50.has improved greatly. State Highway engineers have the traffic lights working together. The only occasional back up is in the afternoon, or if there has been an accident on US 50 somewhere in Aurora or Lawrenceburg. Indiana is now mostly on the same time Eastern Daylight Saving), the exceptions are various counties along the western Indiana/Eastern Illinois Border. (Wednesday, June 06, 2007)
Friday, June 06, 2003 1:11 AM
From: J.T. Alwin
Despite highway improvements between Lawrenceburg to Aurora the traffic is utterly horrendous. Since the 3 Ďlocalí riverboat casinos started dockside gaming, instead of spurts of traffic every couple of hours, it has turned into one constant herd. The rush hour is just as bad (if not worse) than inside Cincinnati. I would suggest to plan extra time (at least a half-hour, sometimes an hour) between 8 and 11 AM and between 5 and 8 PM for those who are planning to travel through is area. This traffic is probably the worst Iíve seen on US 50 between DC and St. Louis.
Let me explain the fast time-slow time ordeal. Since Dearborn (Aurora, Lawrenceburg, Greendale) and Ohio (Rising Sun) counties are closer to Cincinnati, OH, and many people from here work either in Cincinnati or in Kentucky, those two counties use Daylight Savings to stay with our neighboring states (fast time). The rest of the state does not use DST. Everything west of those two counties is an hour behind the other two counties (slow time). Hopefully this clears up the confusion a little bit.
Now an unfortunate event has taken place in this area. The old Mail Pouch barn that you had photographed on the site no longer exists. Its owner decided to go for a traditional red barn.
---
Follow Donna's journey from Coast to Coast.
She started in September 2000 from Ocean City, Maryland.
---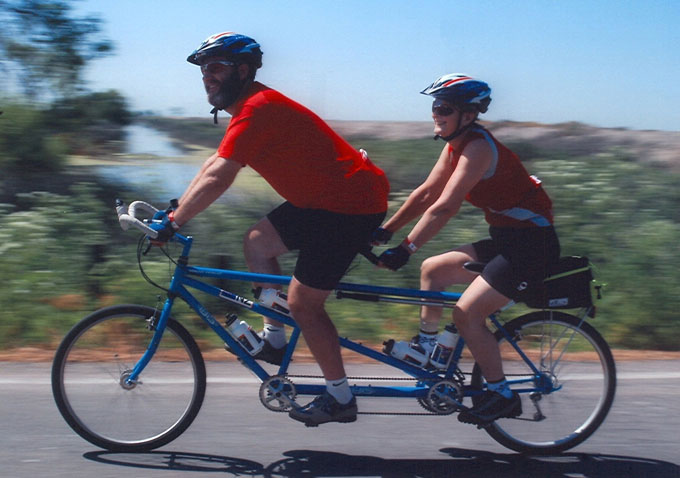 My greatest appreciate for "The Loneliest Road in America" came
when I did a bicycle race that went across Nevada.
Out in the open air one can see a lot! Here's my own story of that week in 1989
Tour of the Loneliest Road Stage Race by Mark Walsh
When traveling there are many ways to get the supplies you might need for your journey. It is always good to be prepared for all possible mishaps. If you need an item for a short time, check out renting or an equipment lease program. If you only need the item for a month, this may be a great way to go. Your will not be committed to buy a trailer or bike that you might only use for a short time.
---

Britta and Michael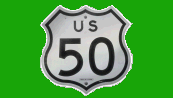 Hannover, Germany (10/22/98)

---
Checking for Gasoline or Car Review
Here are pretty nifty sites. Just enter your zip code and it tells you which gas stations have the cheapest prices on gasoline in your area. It's updated every evening.
http://autos.msn.com/everyday/gasstations.aspx?zip=&src=Netx
Or check out and review your next dream car.
Be a good neighbor and pass this along!
---